Access
While some areas may be closed, we will have additional interpretation available on-site so you don't miss out. This may include QR codes so make sure your mobile can read these when visiting.
What will be open during your visit
Car Park – booking required (sorry no parking for trailers, caravans or mobile homes)
All external spaces with visitor access
Queen Anne Gardens
Great Hall
Great Kitchens
Chapel Royal
Royal Palace and Stirling Heads Gallery

The Argyll and Sutherland Highlanders Regimental Museum

The Tapestry Studio
The Castle Exhibition
The Unicorn Café (nearest toilets at main entrance to the castle). View our menu
Palace shop
Courtyard Gift Shop

Tour the castle with our audio guide using your own mobile phone with internet access. Buy your audio guide when you purchase your tickets, free for Historic Scotland members. We'll show you how to load it to your phone in an email before you arrive
What will remain closed/unavailable during your visit
Palace Vaults
Access Gallery
Guided tours
Clan & Craft Shop
Carers tickets
In line with best practice in the visitor attractions industry and as advised by Capability Scotland, visitors with disabilities are treated on an equal basis with all other visitors and entry is charged at the appropriate admission category rate - Adult/Concession/Child. Proof of disability is not required.
We recognise that some disabled visitors may need help to visit our sites and we offer free entry for accompanying carers, these can be added when making your booking. Please note this is limited to two carers per transaction.
Parking
You must book car parking online in advance when booking entry tickets.
The esplanade has a large tarmac parking area. There are five accessible spaces about 65m from the castle entrance and are offered on a first come, first served basis. 
We are unable to accommodate cars with trailers, caravans or mobile homes.
Whilst the train station is within walking distance of the castle, it is situated up a steep hill.
The Castleview Park and Ride Service is running and can be used to get from Murray Place to the Old Town Jail, which is a 5 minute uphill walk from the castle entrance. 
Approach to site
The route is cobbled and sloping with a maximum gradient of 1:15. The castle entrance is 180m from the furthest point of the car park. 
Security and bag restrictions
For reasons of ease of movement, visitor safety and general security, suitcases and large rucksacks are not permitted in the castle.
We are unable to store luggage, prams, pushchairs or other personal items for visitors.
Dogs
Assistance dogs are permitted at all our sites and within roofed areas. Dogs must be kept on a lead at all times and not left unattended at any time. Owners must pick up after their dogs.
Visitors' dogs are not permitted at Stirling Castle.
Visiting the site
Please note: While a one-way system is in place at the castle, staff are eager to assist any visitors with specific requirements. Please contact the castle (tel 01786 450 000) or make staff aware if you have any concerns.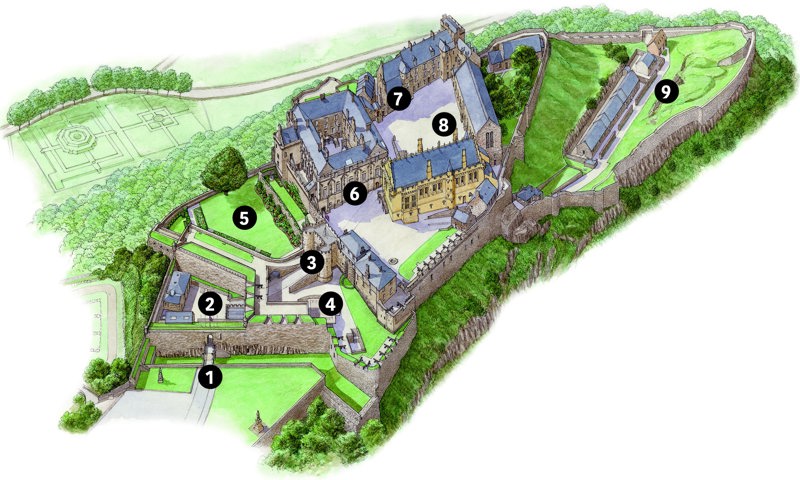 Staff at the entrance will control the flow of visitors, and can provide any additional assistance.

The mobility car will not be operating at this time.


There is an adapted toilet in the first courtyard.


The main route through the castle is 160m long from the gate to the Inner Close. It is surfaced with cobbles and has a maximum gradient of 1:9.

Visitors are able to move freely through the external spaces in the castle, but a limited number of internal spaces will be open to the public.


The Unicorn Café has ramped access and is level throughout. The toilets here will not be available at present.


The path around the Queen Anne Garden is level paving.


The Royal Palace is open with access from the Lion's Den. The vaults will remain closed.

The Great Kitchens are now open and only accessible via several steps leading down to it.

The Argyll and Sutherland Highlanders' Regimental Museum has 26 stone steps leading up to it.




The Chapel Royal has level access from the cobbled courtyard.

The Great Hall has level access from the cobbled courtyard. An adapted toilet is available here.


The Nether Bailey is a grassy area, 200m from the Outer Close along a cobbled track with a maximum downward gradient of 1:7.