Access
While some areas may be closed, we will have additional interpretation available on-site so you don't miss out. This may include QR codes so make sure your mobile can read these when visiting.
What will be open during your visit
All external spaces with visitor access
The mobility vehicle is available to use (a face covering must be worn). Please ask a member of staff who can organise this for you
Great Hall
St Margaret's Chapel
Mons Meg
One o'Clock Gun
Palace Apartments – The Laich Hall and Antechamber (The Mary Room and The Birthing Room remain closed)
Prisons of War exhibition (one vault remains closed)
Honours of Scotland (Crown Jewels & Stone of Destiny)
Prisons of War vaults (exhibition is closed)
Scottish National War Memorial
National War Museum 
Tour the castle with our audio guide, using your own mobile phone with internet access or one of our devices. Buy your audio guide when you purchase your tickets, with a 20% discount for members
The Portcullis Shop and The Whisky and Finest Food Shop

Please note that the shops will be capacity managed and there will be a one way system in place throughout. You must wear a face covering when visiting the shops

Takeaway offering outside the Redcoat Café (view menu). Open daily, 9.30am to 4pm
Queen Anne Tea Room (open 10am to 3pm)
Toilets available in the Lower Ward just over the drawbridge (baby changing facilities available), Hospital Square, David's Tower (just off Crown Square) and the National War Museum
Accessible toilet available in the Queen Anne Building
What will remain closed/unavailable during your visit
Palace Apartments - The Mary Room and The Birthing Room (The Laich Hall and Antechamber are open)
Fight for the Castle exhibition
Regimental Museums
One o'Clock Gun exhibition
The Royal Scots Dragoon Guards Museum & Shop
Guided Tours 
Crown gift shop
Carers tickets
In line with best practice in the visitor attractions industry and as advised by Capability Scotland, visitors with disabilities are treated on an equal basis with all other visitors and entry is charged at the appropriate admission category rate - Adult/Concession/Child. Proof of disability is not required.
We recognise that some disabled visitors may need help to visit our sites and we offer free entry for accompanying carers, these can be added when making your booking. Please note this is limited to two carers per transaction.
Parking
Parking is available near the castle entrance on the esplanade for Blue Badge holders. These are limited and must be booked in advance by calling 0131 225 9846 or email ecadmissions@hes.scot.
Castle Terrace NCP is the nearest car park.
Approach to site
The castle is reached across the esplanade – a wide area of smooth tarmac, with an uphill gradient of 5 degrees. The esplanade is 110m long.
Security and bag restrictions
For reasons of ease of movement, visitor safety and general security, suitcases and large rucksacks are not permitted in the castle.
We are unable to store luggage, prams, pushchairs or other personal items for visitors.
Dogs
Assistance dogs are permitted at all our sites and within roofed areas. Dogs must be kept on a lead at all times and not left unattended at any time. Owners must pick up after their dogs.
Visitors' dogs are not permitted at Edinburgh Castle.
Visiting the site
Please note: While a one-way system is in place at the castle, staff are eager to assist any visitors with specific requirements. Please contact the castle (tel 0131 225 9846 or email ecadmissions@hes.scot) or make staff aware if you have any concerns.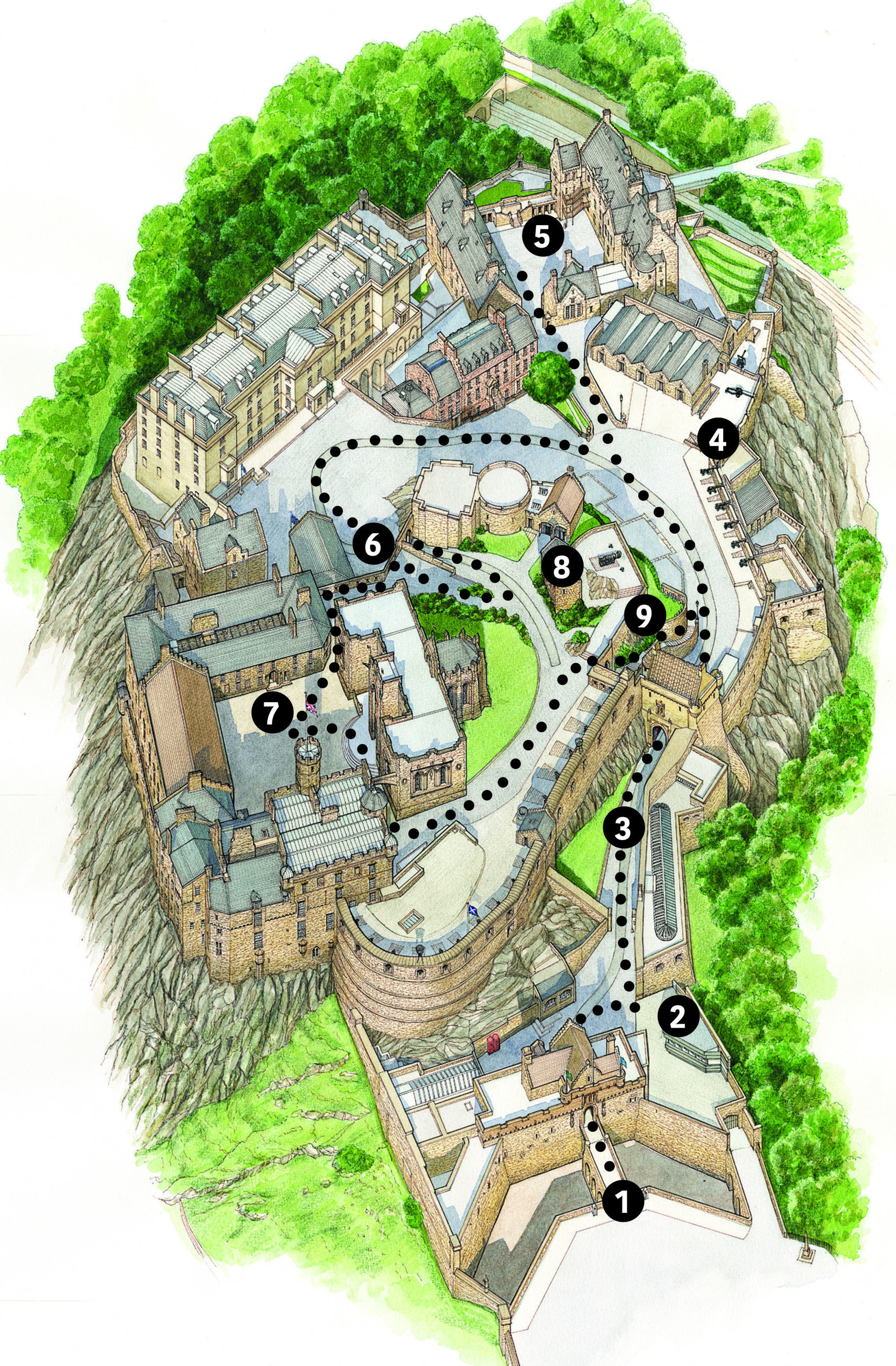 A one-way system is in place.

Visitors access the castle over a wooden-slatted bridge.

A mobility vehicle to Crown Square is available on request, and can be arranged by staff at the castle entrance. The car has been adapted to allow physical distancing. It can accommodate most wheelchairs, motorised wheelchairs and mobility scooters, but this is dependent on their dimensions. A face covering must be worn, maximum of 3 people per journey, and there may be a short wait between pickups to allow the vehicle to be sanitised

Two manual wheelchairs are available for use on a first-come, first-served basis. 


Upon entering the castle, there is a set of adapted toilets to your left, and the ticket office to your right – both reached over an uneven cobbled surface. An audio guide is available to hire from the ticket office. It is free to blind and partially sighted visitors, or can be downloaded and played on your own device. The handsets operate by a push button system.


You enter the castle from a steep curved route. It is 15 degrees at its steepest point, the average is five degrees and it is approximately 350m from entering the castle to the top level at Crown Square. It is surfaced with cobbles, which can be uneven.

The Portcullis Gift Shop has step-free access but is accessed from the steep, cobbled hill.


The One o'Clock Gun is on the level but cobbled area, next to the Redcoat Café. The gun makes a loud and sudden noise when it is fired. It is fired Monday to Saturday. 

The Redcoat Café has step-free access. Seating will be available, but the doors and windows will be kept open for ventilation, so the space may be cool and draughty.

The café toilets will not be available at this time. Temporary portaloos will be provided, but the nearest accessible toilet is in Crown Square at the top of the castle (speak to staff for access).


Hospital Square is reached down a cobbled ramp of 12 degrees. Visitors follow the one-way route back up the same cobbled slope.


The route continues up the cobbled incline through Foog's Gate. This is the steepest part of the castle route.

From here visitors can enter the Prisons of War vaults. The vaults are accessed via numerous short flights of steps, with handrails on both sides. The Prisons of War exhibition remains closed.


Visitors will then enter Crown Square – a large, level, paved area.

The Great Hall and National War Memorial both have ramped access.

In the Palace Apartments, the Laich Hall and Antechamber are open. There is a short flight of stone steps with a handrail at both entry and exit (Mary Room and Birthing Room remain closed).

Adapted toilets are available in Crown Square – please ask a member of staff for assistance.

The one-way route then leads to St Margaret's Chapel and Mons Meg. The surface around the Chapel and Mons Meg is cobbled. The Chapel has a small ramp up to a door 810mm wide.

The Whisky and Finest Food Shop is next to St Margaret's Chapel and has a small threshold.


Visitors then exit the castle via 70 stone steps with a handrail. Staff will be available to guide you back down through the castle if this exit is unsuitable for you.