In April, we announced our plans for a nationwide programme of inspections at around 70 of the historic properties we care for. Our specialist teams have been out and about at the affected sites all over Scotland, surveying the high areas of these monuments and checking the stonework by hand.
The background
We care for over 300 historic properties across Scotland, each with their own unique characteristics and distinct set of conservation needs and pressures.
Our climate is changing, and with it bringing new challenges for the conservation of these landmarks we hold dear. We've seen an increase in deterioration of stonework and falling masonry at some of our sites, presenting potential risks for our visitors, staff, and the sites themselves.
While climate change isn't the only reason for this, it has been a key factor in reassessing how we manage our properties. That's why we've taken the proactive step to address this accelerated decay and manage the consequences of deterioration.
To do this, we've had to put safety restrictions in place at affected sites and limit visitor access.
Our progress


Our programme has progressed well, and we have now completed the first phase of prioritised inspections. As a result, we've been able to reopen a number of sites including Dundonald Castle, Doune Castle and Inchcolm Abbey, and increase visitor access at others, such as St Andrews Cathedral. Across our estate, there is full or partial access to 80 per cent of the properties we care for.
We're now inspecting the next group of prioritised sites. To ensure we are undertaking this work as quickly as possible, we have scheduled inspections throughout the winter months in a change to our initial programme. Instead of anticipating poor weather and building in a break from the outdoor inspections, our team will continue to work where they can and only stop in the event of actual poor weather making it unsafe to work.
While we carry out these inspections, we have looked at how we can find new and different ways of telling the stories of the sites where we've had to keep access restrictions in place for now. This includes creating more interpretative signage at sites, as well as exploring the use of innovative technology like 3D modelling and new audio tours, videos and trails to offer alternative visitor experiences.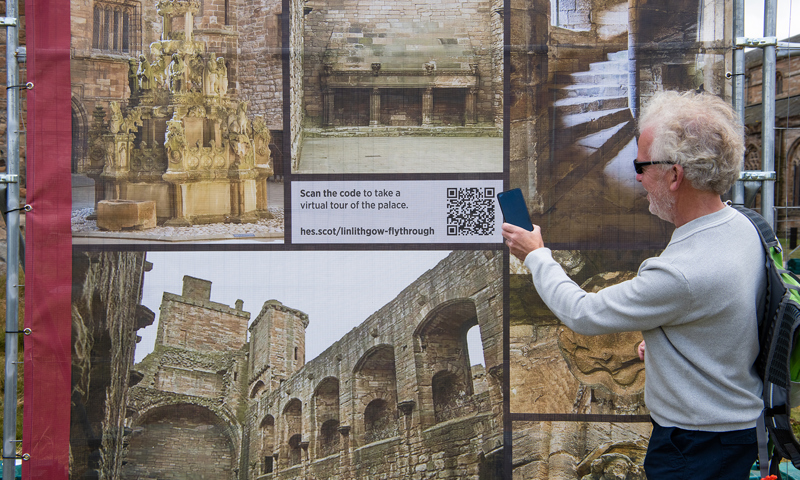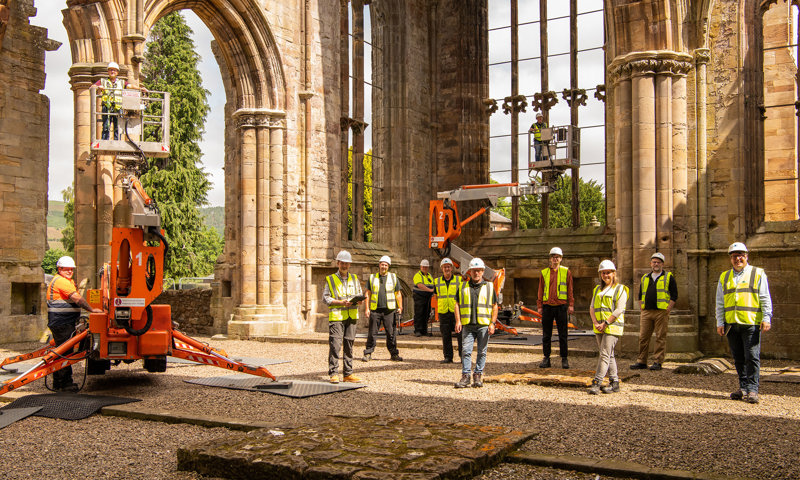 Conservation staff in hard hats and high visibility jackets working on high level inspections at Melrose Abbey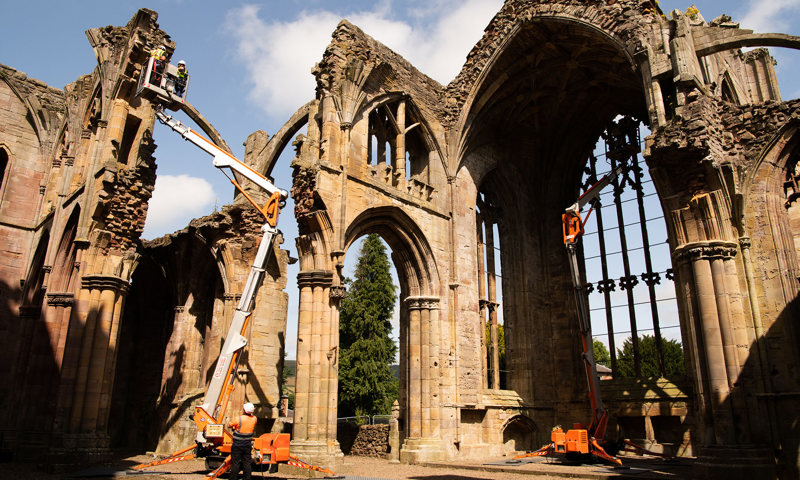 Conservation staff using cherry pickers to carry out high level inspections at Melrose Abbey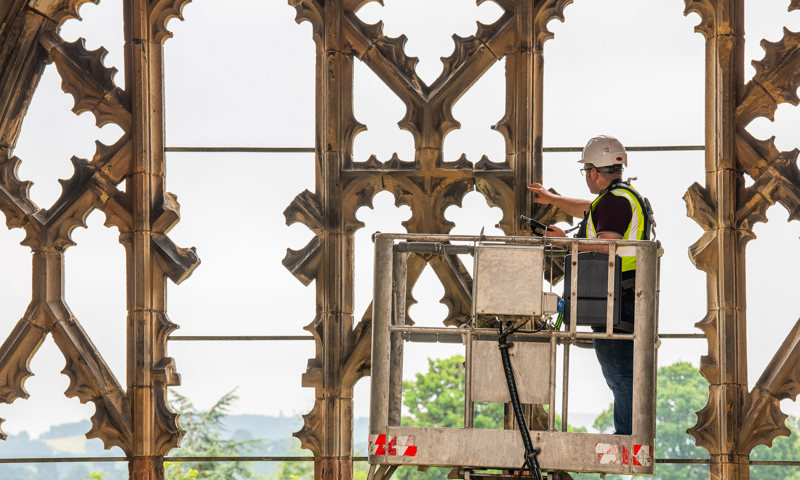 High level inspections taking place on a cherry picker at Melrose Abbey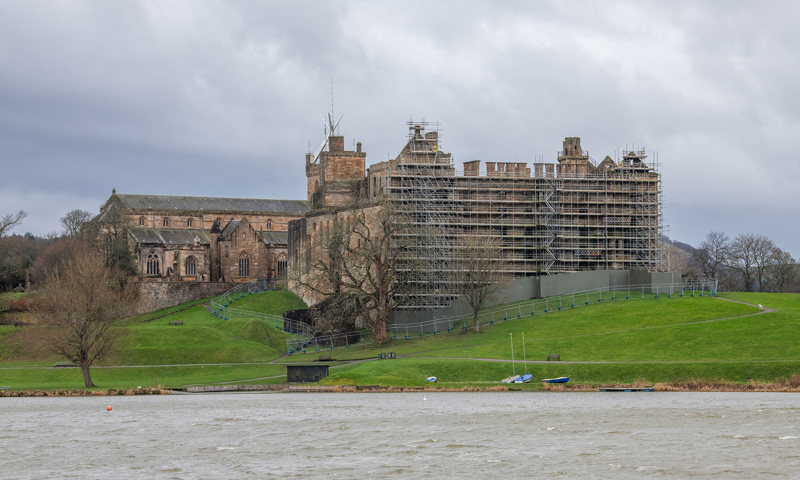 Exterior of Linlithgow Palace with scaffolding erected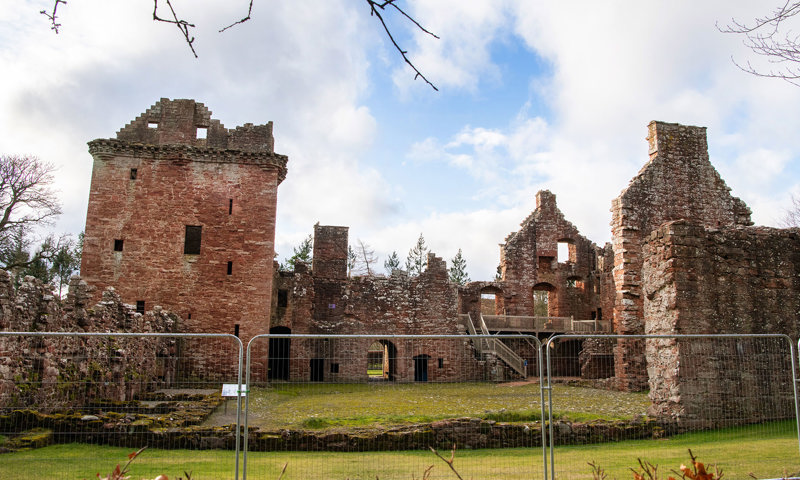 General view of Edzell Castle exterior showing access restricted by fencing due to high level inspections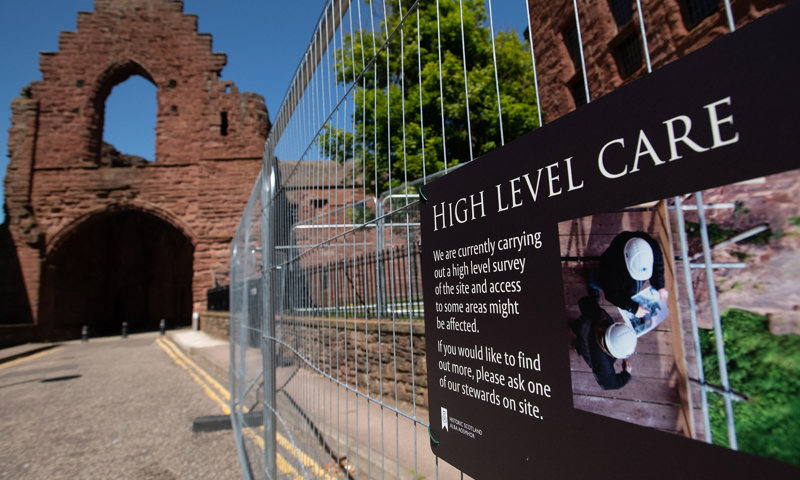 A sign outside Arbroath Abbey relating to high level survey work
What happens next
Some inspections and associated repairs, for example repairs to slates and lightening conductors, de-vegetation to remove invasive weeds and bedding of high-level stones, have been completed where possible to enable sites to at least partially reopen.
Once we've carried out inspections at each of the affected sites, we'll have a better idea of the extent of the challenge facing us and will be able to make informed decisions about which works to prioritise and the resources required to carry out more involved conservation works. 
It's important to remember that Scotland isn't alone in facing these threats to nationally important historic buildings – this is a global issue. We want our proactive response to the challenges of maintaining our historic monuments to be a source of learning and inspiration for heritage organisations worldwide.
At the bottom of this page you will find a list of all sites involved with our inspections programme. If you'd like to learn more about about the inspections you can read our blog explaining the project linked below, along with our History Awaits! page, which has more information about what's open and what's on.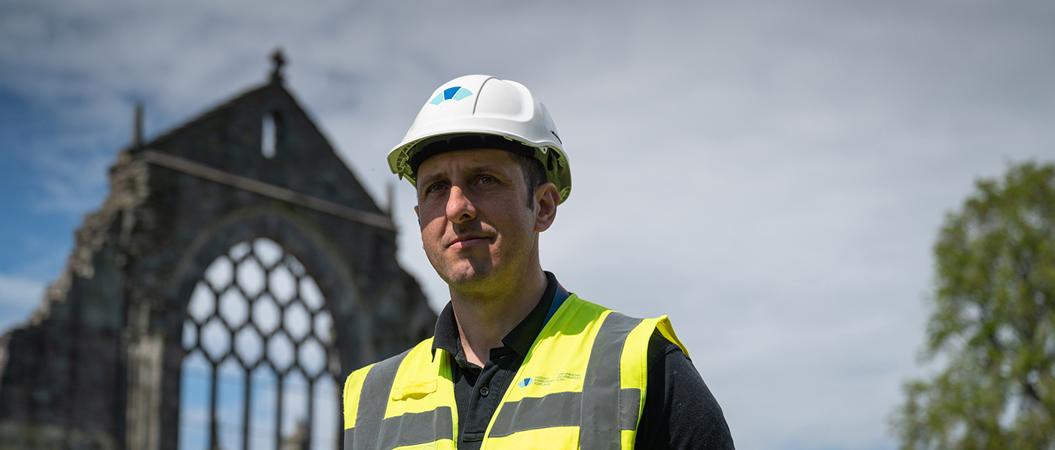 Inspections explained
Take a look behind the scenes at the biggest challenge facing Scotland's historic buildings
Find out more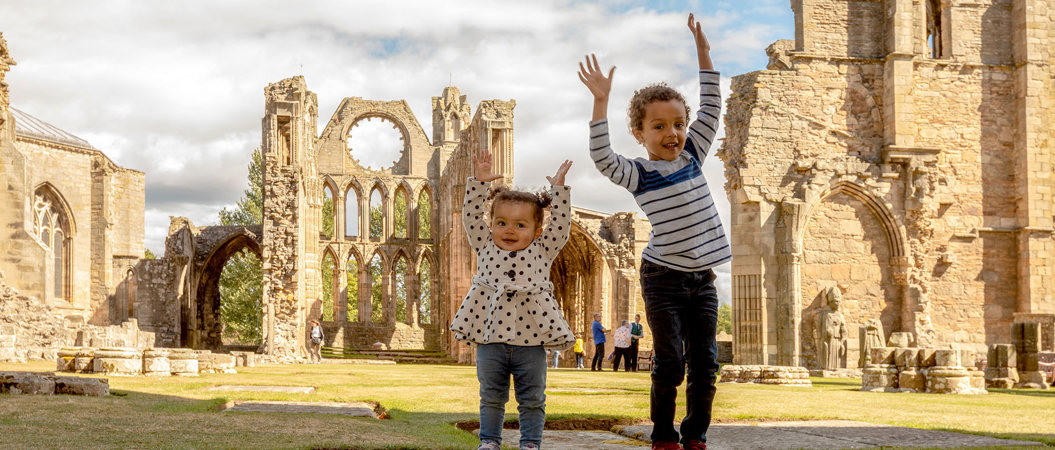 Which sites can I visit?
Many of Scotland's most-loved visitor attractions remain open, including Edinburgh Castle, Skara Brae, Stirling Castle, Fort George, Urquhart Castle and more.
Find out more
Sites involved: 
The following is a list of sites undergoing inspections and where full access restrictions are in place.
Find out more about our inspection programme
Explore all Historic Environment Scotland sites