Historic Environment Scotland's staffed heritage attractions have drawn in more visitors than ever before. Over the last 11 months – from April 2016 to present – a record breaking 4,000,000 people have flocked to historic sites across the length and breadth of the country.
Historic Environment Scotland, who manage over 300 Historic Scotland visitor attractions together representing more than 5,000 years of Scottish history, has set a new heritage tourism record and reported their best ever financial year for visitor figures.
This is the first time since records began that footfall has hit the four million milestone mark in a single financial year. Visitors taking to Scotland's castles, abbeys, palaces and other historic sites increased by more than 470,000 – a surge of 13% year-on-year. Bettering the previous record of 3,832,796 visitors to staffed sites, which was set in the 2015-16 financial year.
The four million visitor milestone was reached with a visit to the impressive ruins of St Andrews Cathedral.
Stephen Duncan, Director of Commercial and Tourism at Historic Environment Scotland, said: "This financial year has seen us hit an incredible milestone, achieving a record breaking first for Scotland's heritage tourism sector. A fantastic four million visitors turned out at our staffed sites, which include some of the country's most recognisable landmarks from Orkney to the Borders and everywhere in between.
We welcomed 474,198 more visitors to our staffed sites compared to the same period last year – recording our greatest number of visitors ever. This milestone is made even more special and exciting as we embark on Scotland's Year of History, Heritage and Archaeology."
In addition to a new overall personal best for total number of visitors turning out at Scotland's historic sites, a number of attractions have also been setting new individual records during the same period.
Over 1.6 million people passed over Edinburgh Castle's drawbridge, around 200,000 up on the same period last year. Whilst Stirling Castle, recently crowned Scotland's Best Visitor Attraction at the Scottish Outdoor and Leisure Awards, welcomed 447,512 visitors, a rise of 7%.
The medieval stronghold of Urquhart Castle, which overlooks Loch Ness, jumped up by 13% overall to 380,152 visitors.
Meanwhile Doune Castle, famed for its role as the fictional Castle Leoch in the hit historical time-travelling TV series Outlander, is still feeling the 'Outlander effect'. During this period 84,972 people explored the 1300s castle and filming location for themselves, an increase of more than 20,000 or 31% compared with the same period last year.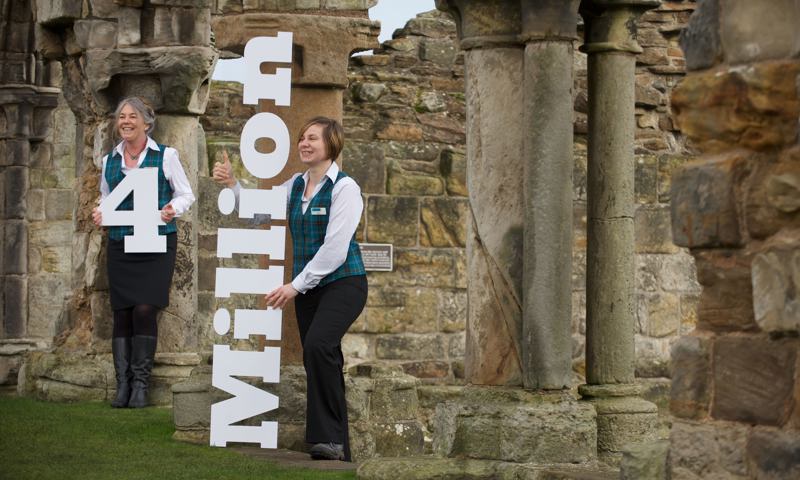 Blackness Castle has also benefited from its cameo in the series as the stand in for Fort William. Visitor numbers at the 15th century, Firth of Forth fortress are up 40% to 27,750. The coastal attraction is often referred to as 'the ship that never sailed' due to its boat like shape.
The positive trend and strong performance continued across the country. Orkney's staffed cultural heritage attractions collectively welcomed 138,711 visitors over the 11 month period – an increase of 8% on footfall. Over 7,300 more people explored the prehistoric village of Skara Brae than last year, with the site recording 91,860 visitors. Numbers reported at Maeshowe Chambered Cairn were comparable to the previous financial year at over 23,000 visitors.
Home to a significant collection of carved stones and crosses, a total of 63,502 people made the pilgrimage to Iona Abbey and Nunnery, a growth of 8% year-on-year.
Stephen continued:
This remarkable performance in both footfall and membership –which was up by 6.5% to 170,000 members – clearly demonstrates the real value and significance of heritage attractions. As well as their continued importance within Scotland's wider tourism offering.
"Achieving this milestone is truly a testament to the dedication and enthusiasm of our site staff who bring Scotland's past to life every day for our visitors, providing them with a real insight into our shared history and heritage. I'm excited by the prospect of the months ahead as we mark the Year of History, Heritage and Archaeology, as well as the new opportunities this brings for Scotland's heritage and tourism sector."
2016-17 financial year top ten staffed heritage attractions:
Edinburgh Castle – 1,647,351
Stirling Castle – 447,512
Urquhart Castle – 380,152
Skara Brae – 91,860
Doune Castle – 84,972
Linlithgow Palace – 68,958
Iona Abbey – 63,502
St Andrews Castle – 72,283
Fort George – 58,098
Melrose Abbey – 49,566
About Historic Environment Scotland (HES)
Year of History, Heritage and Archaeology 2017
2017 is the Year of History, Heritage and Archaeology (HHA), a year that will celebrate Scotland's people, our distinct culture and traditions, our historic landscapes, attractions and icons as well as our hidden gems and amazing stories. From World Heritage Sites to ancient monuments, listed buildings to historic battlefields, cultural traditions to our myths, stories and legends, 2017 is the year to explore Scotland's fascinating past. This is a Scottish Government initiative being led by VisitScotland and a variety of partners.
Get involved on Twitter with #HHA2017

Follow Historic Environment Scotland
Twitter: @HistEnvScot | @welovehistory 
Facebook: @HistoricEnvScotland | @VisitHistoricScotland
For further information, please contact:
Grant Thomson
Historic Environment Scotland Media Office
Direct Line: 0131 668 8603
Mobile: 07580 702 611
grant.thomson@hes.scot