Young people from across Scotland are being asked to take inspiration from over 5,000 years of Scotland's history as part of the Year of Stories. 
Historic Environment Scotland (HES) hopes to inspire young storytellers through heritage as part of its 'If These Walls Could Talk' project which launches today.
Young people aged 8-12 will be asked to tell a tale that features a Historic Scotland site* in English or Gaelic through spoken or written storytelling by submitting a 150-300-word story or two-minute storytelling video by Friday 24 June.  
All participants will be entered into a prize draw where there will be a range of exciting prizes up for grabs including a Historic Scotland family membership for one year; a Historic Scotland 7-day family explorer pass; book bundles and writing kits; a signed set of Cressida Cowell How to Train Your Dragon books; a one-hour storytelling session for a school or library; and tickets for the Storytelling Festival in October for a school class.
HES has partnered with Scottish Book Trust and the Scottish Storytelling Forum to deliver the project and will engage with local schools and youth organisations to encourage young people to take part.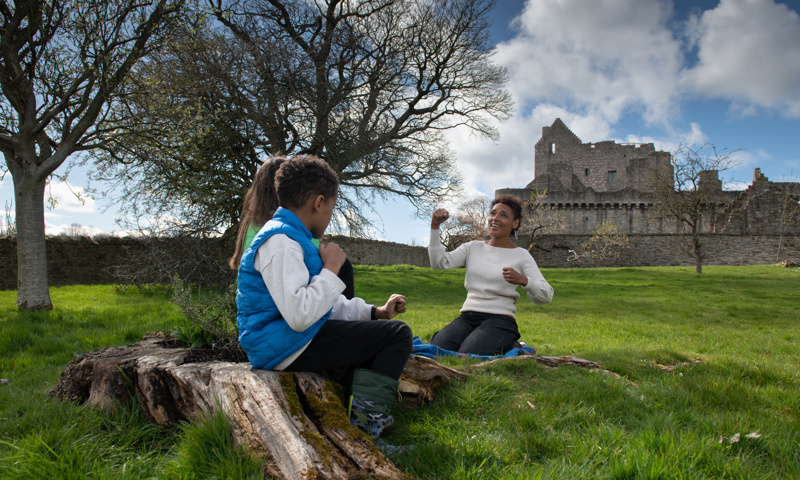 The entrants can use various historic sites throughout the country for inspiration including the world-famous Edinburgh Castle, Fort George - the 18th century fortification in the Highlands which was built in the wake of the Battle of Culloden - and Hermitage Castle in the Borders which was visited by Mary Queen of Scots in 1566, as well as sites such as Skara Brae in Orkney which date back to the Neolithic period. 
A showreel featuring some of the most inspiring entries will be created and shared on HES's social media channels and website as part of the Year of Stories 2022. 
Alex Paterson, Chief Executive of HES, said:
"Our historic houses, castles and abbeys have been linked to stories throughout history and I look forward to finding out how they continue to inspire young people today. 
"In addition to a range of fantastic prizes on offer for the participants, including a signed set of books from the best-selling children's author Cressida Cowell, the voices of young people up and down the country will be celebrated through a showreel to highlight their diverse and creative tales, providing an opportunity for their perspectives to be featured and showcased as part of Scotland's themed year."
Culture Minister Neil Gray said:
"We are fortunate to have a wealth of historic sites in Scotland that I'm sure will fire the imaginations of budding young storytellers all over the country. 
Scotland is famous for producing outstanding writers so this exciting competition, which is part of our Year of Stories activities, is a wonderful platform for our storytellers of the future to make their mark."
Marc Lambert, CEO of Scottish Book Trust, said:
"Working with our partners Historic Environment Scotland and the Scottish Storytelling Forum, we hope that many young people will be encouraged to share their different experiences and shape the narrative of our country. We look forward to reading the Year of Stories submissions and learning about young writers' favourite spots in Scotland."
Miriam Morris, Communications and Development Officer for The Scottish Storytelling Forum, said:
"This is a great way to engage with stories and storytelling in the Year of Scotland's Stories and the perfect opportunity to celebrate the history around us. 
Storytelling is one of Scotland's oldest traditional art forms and we've seen more and more young people interested in the tradition of the spoken word. We're delighted to be part of this project and are looking forward to seeing and hearing all the stories that come in."
For further information including the project T&Cs, or to enter, visit: hes.scot/these-walls  
About Scottish Book Trust
Scottish Book Trust is a national charity that believes everyone living in Scotland should have equal access to books. Our work provides opportunities to improve life chances through books and the fundamental skills of reading and writing. Access to books and a love of books bring many important benefits from family bonding and advancing children's learning, to unlocking creativity, helping employability and improving mental health & well-being. Scottish Book Trust aims to support all communities across Scotland, with particular focus on those who are vulnerable and under-represented.
Our programmes and outreach work include:
Gifting books to every child in Scotland to ensure families of all backgrounds can share the joy of books at home, through Bookbug and Read Write Count

Working with teachers to inspire children to develop a love of reading, creating innovative classroom activities, book awards and author events such as Authors Live with the BBC and our Scottish Friendly Children's Book Tour

Supporting and nurturing Scotland's wide-ranging literary talent, both emerging and established through our training, awards and writing opportunities including New Writers Awards

Creating events to share books and connect writers with communities, including Book Week Scotland

Providing support to people living with dementia, and their carers, through Reading is Caring
You can follow Scottish Book Trust on Twitter and Facebook 
About
Scottish
Storytelling Forum
The Scottish Storytelling Forum (SSF) is a diverse network of storytellers, organisations and individuals supporting Scotland's vibrant storytelling community. It is a charity and a membership organisation that operates nationwide with links to storytelling communities across the world.

SSF supports is facilitated by TRACS.  TRACS (Traditional Arts and Culture Scotland SC043009) is the national network for traditional arts as a vital and diverse element of Scottish life, which brings together the Traditional Music Forum (SC042867), the Scottish Storytelling Forum (SC020891) and the Traditional Dance Forum of Scotland (SC045085).  TRACS is currently based at, and works in close co-operation with, the Scottish Storytelling Centre – A Home for Scotland's Culture, which is a joint partnership project between Tracs and The Church of Scotland (SC011353).
About Year of Stories 2022
Scotland's Year of Stories (#YS2022 #TalesOfScotland), led by VisitScotland, will be showcased throughout 2022 and will spotlight, celebrate and promote the wealth of stories inspired by, written, or created in Scotland. From icons of literature to local tales, Scotland's Year of Stories encourages locals and visitors to experience a diversity of voices, take part in events and explore the places, people and cultures connected to all forms of our stories, past and present.
About Historic Environment Scotland (HES)
We are the lead public body charged with caring for, protecting and promoting the historic environment. We will lead on delivering Scotland's first strategy for the historic environment,

 

Our Place in Time.
Historic Scotland, Scran, Canmore, The National Collection of Aerial Photography (NCAP), The Engine Shed, Stirling Castle and Edinburgh Castle are sub-brands of HES.
View our

 

press pack

 

and keep up to date by

 

registering for media release email alerts. If you wish to unsubscribe, please

 

contact us.
Follow Historic Environment Scotland