Historic Environment Scotland (HES) has announced an ambitious national campaign to find out what heritage really means to the people of Scotland as part of the 2017 Year of History, Heritage and Archaeology.
'What's Your Heritage?' is a multi-channel project that asks members of the public to reveal which of Scotland's places, buildings and monuments they want to see recognised and celebrated.
HES hopes to uncover some hidden gems and, perhaps, some unusual examples of heritage for future generations to enjoy. From theatres to pubs, and castles to schools, what are the buildings that have made us who we are?
The organisation is calling on everyone in Scotland to get involved with the conversation. An online survey will run for the duration of the campaign, meaning people can contribute at a time and place that suits them. HES will also run a series of informal workshops across the country to give people a chance to participate in conversations in their area. HES has also created a digital toolkit which is available to organisations or groups that would like to run their own workshop. A social media campaign #MyHeritageIs adds another digital dimension to the project, inviting people to share their pictures and thoughts.
The feedback captured in the project will be used to help shape new policies that will assist the organisation in protecting and celebrating historic sites now and in the future.
Elizabeth McCrone, Historic Environment Scotland's Head of Designations, visited Glasgow to launch the campaign, and to meet local members of the community in the Gorbals to find out their answers to the question 'What's Your Heritage?'
She explained, "This is the first time that we have undertaken such a comprehensive review with the public about the criteria we use to decide whether to designate sites and structures. We receive hundreds of requests every year to assess buildings and sites for listing or one of the other designations and we really want to know what the people of Scotland think should be recognised and protected.
"We know that people are increasingly interested in different aspects of our history that designation hasn't traditionally focussed on, such as the stories and experiences associated with different places. Through the 'What's Your Heritage?' campaign, we're hoping to reach out to people across the country to find out whether we're right about that and, if so, how we can take a fresh look at our work."
Scotland is a land rich with stories and history. Some aspects are already well-known, for instance the B-listed Citizens Theatre contains an important early auditorium of 1878 as well as rare machinery which survives under the stage. 'What's Your Heritage?' will delve into the stories of such buildings to ensure that what HES is recording, celebrating and protecting for the benefit of current and future generations has Scotland's support.
Stephen Smart is a member of the Citizens Community Collective, a group made up of around thirty members aged from 22 to 80, from all walks of life. He recently appeared on stage at the Citz in The Gorbals Vampire, the culmination of a 10-month project run by the theatre involving local people, school children and the general public in workshops, exhibitions and creative writing competitions inspired by true events which took place in the Southern Necropolis in 1954. When asked what heritage means to him, Stephen said: "Heritage can mean your roots. Anytime I think of heritage I think of the past – it's not usually something you think of today. It's very important culturally and positions you in the world – it's your personality. Heritage is a cultural thing and your culture defines you."
Nearby pub, The Laurieston is a category C-listed building. Stepping through the door, visitors are taken back in time to the 1960s where the original decorative scheme is still intact.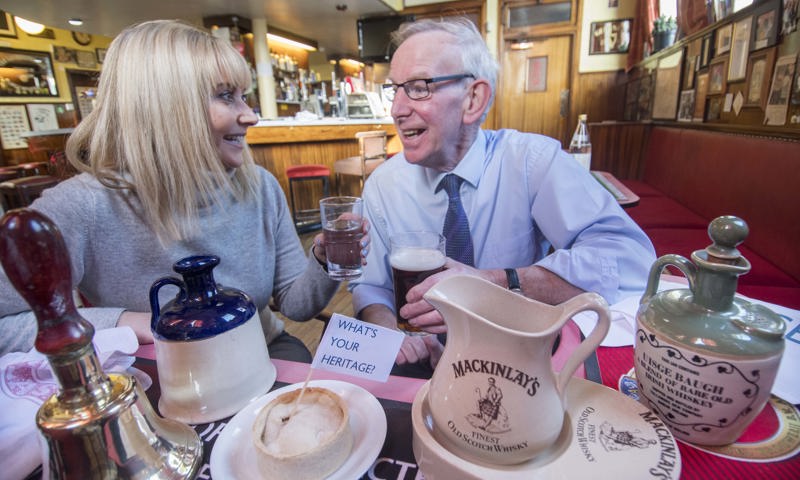 John Clancy, proprietor, said: "There's not many people that own their own pubs anymore, most people lease – but we own this, and we like to keep it the same as it's always been. Our family has always been in the pub trade and it has changed a lot over the years. You'll go into places now and they'll have lots of tellies, music blasting, and huge menus. In here you'll get conversation, and a pie and peas from the same pie warmer we had at our old premises in Maryhill forty years ago. We've got regulars who followed us from there, young lads whose fathers used to come in to see us, and on the walls you'll see photos and newspaper clippings we've collected over the years that we know will be interesting to our regulars. It's like a big extended family, where everyone is welcome."
HES is also seeking opportunities to collaborate with and empower others to have the conversation. They are not just asking about things that are already deemed 'historic', but things people will look back on as shaping the history of Scotland's communities. Records of places that seem part of everyday life in 2016 could offer a real sense of place and cultural identity for future generations.
In addition, the organisation is encouraging people to consider how change to designated sites and places should be managed, since the historic environment can and should form the focus for regeneration and business development. By having these conversations, HES will be able to enhance its protection and regulation of the historic environment, and to increase knowledge and understanding of what matters most to the people of Scotland.
What's Your Heritage? How to get involved:
Twitter: @HistEnvScot
Facebook: HistoricEnvScotland
About the Citizens Theatre
The Citizens Theatre is an iconic venue and theatre company based in the Gorbals area of Glasgow. It has been one of Scotland's flagship producing theatres since 1945. Fondly known as the Citz, it is led by Artistic Director, Dominic Hill, and Executive Director, Judith Kilvington. For the fastest information on all Citizens Theatre shows, learning and participation activity, and the forthcoming £20.8 million building redevelopment project, visit citz.co.uk.
About Historic Environment Scotland (HES)
Year of History, Heritage and Archaeology 2017
2017 is the Year of History, Heritage and Archaeology (HHA), a year that will celebrate Scotland's people, our distinct culture and traditions, our historic landscapes, attractions and icons as well as our hidden gems and amazing stories. From World Heritage Sites to ancient monuments, listed buildings to historic battlefields, cultural traditions to our myths, stories and legends, 2017 is the year to explore Scotland's fascinating past. This is a Scottish Government initiative being led by VisitScotland and a variety of partners.
Get involved on Twitter with #HHA2017

Follow Historic Environment Scotland
Twitter: @HistEnvScot | @welovehistory 
Facebook: @HistoricEnvScotland | @VisitHistoricScotland
For further information, please contact:
Ali George
Historic Environment Scotland Media Office
Direct Line: 0131 668 8714
Mobile: 07583 018 790 
ali.george@hes.scot