Historic Environment Scotland (HES) has started the process to shape its next Corporate Plan 2019-22.
Based around the concept of Service Design, which aims to put the needs of current and future audiences at the heart of policy and delivery, teams have been holding listening events across the country, as well as setting up shop at a variety of events to directly engage with both existing audiences and seldom heard voices.
Initial views have also been sought across the organisation's digital platforms, using the hashtag #HelloHES, to encourage input and participation at this initial stage.
A Sharing Event will now be held in Edinburgh on June 26 before the process of drafting and formal public consultation begins later this summer, where people across Scotland will be asked to share their views as the organisation sets out its future ambitions as Scotland's lead heritage body.
Commenting on the process, Alison Turnbull, Director of Development and Partnership said:

"Given the aims and breadth of our work, it felt only right that we looked at a different way to engage with people and seek input and views at this early stage, so we can continue to build an organisation that looks at new opportunities and puts bold and dynamic thinking at the forefront of our plans for the future.
It has been hugely informative to have been able to gather views from a cross section of our audiences, as we begin the process to shape our new Corporate Plan.
"This is however very much the start of the journey and we'd encourage people to continue to share their views via the #HelloHES hashtag, as well as taking the opportunity to get involved when we launch our formal consultation later this summer."
More information on the Corporate Plan can be found on our website, or join in the conversation online using the hashtag #HelloHES @HistEnvScot.
About Historic Environment Scotland (HES)
Year of Young People 2018
The Year of Young People (YoYP 2018) will inspire Scotland through its young people aged 8 to 26, celebrating their achievements, valuing their contributions to communities and creating new opportunities for them to shine locally, nationally and globally. Over 200 young people throughout Scotland will become #YOYP2018 Ambassadors, ensuring their communities know about local opportunities to celebrate young people.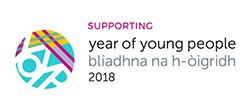 Follow Historic Environment Scotland
Twitter: @HistEnvScot | @welovehistory
Facebook: @HistoricEnvScotland | @VisitHistoricScotland
Instagram: @HistEnvScot | @historicscotland
For further information, please contact:
Iona Matheson
Historic Environment Scotland Media Office
Direct line: 0131 668 8703
Mobile: 07827 956 858
communications@hes.scot