Project: Falkirk Conservation Area Regeneration Scheme (CARS), Falkirk 
Theme: Shopfront Repair/Reinstatement
The Project
| | |
| --- | --- |
| Grantee organisation | Falkirk Council |
| Total HES funding | £1,631,182 |
| Total Scheme Cost | £5,084,644 |
| Scheme Delivery Period | 2013-2019 |
Falkirk CARS was delivered in conjunction with a Townscape Heritage Initiative (THI) funded by the National Lottery Heritage Fund (NLFH). The scheme centred on a spine running through the secondary core of Falkirk town centre. Within this area, independent retailers and service businesses comprised 67% of the ground floor premises. The area was chosen in order to help address local property market failures and to regenerate the declining secondary areas of the town centre. The investment aimed to create more of a town centre destination and accelerate the wider regeneration of Falkirk.
Theme: Shopfront Repair/Reinstatement
In support of the main aim of the scheme, a shopfront enhancement grant programme was introduced to make funding available to independent business owners to improve the appearance of their shopfronts and to encourage them to develop and offer distinctive specialist products and services. The outcomes envisaged from this included improving and enriching the retail and visitor offer by focusing on higher value markets.
Running in parallel with the physical repair works, were a number of complementary activities to promote the shopfront enhancement projects and increase the local appreciation for these. These included talks and walks exploring the historic shops of Falkirk (as part of Doors Open Day), an exhibition on Falkirk's shops and an art project called 'Falkirk's Shop's: First Impressions Art Project Exhibition.
One of the projects receiving CARS funding for shopfront repair/reinstatement work was 6-8 Cow Wynd with the shopfront work included as part of a wider scheme of repair. The impact of this investment was seen not only with the improved condition and appearance of the building itself but also on the surrounding area.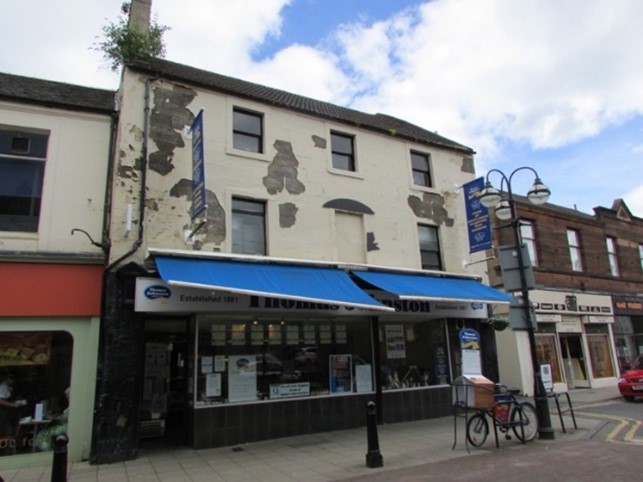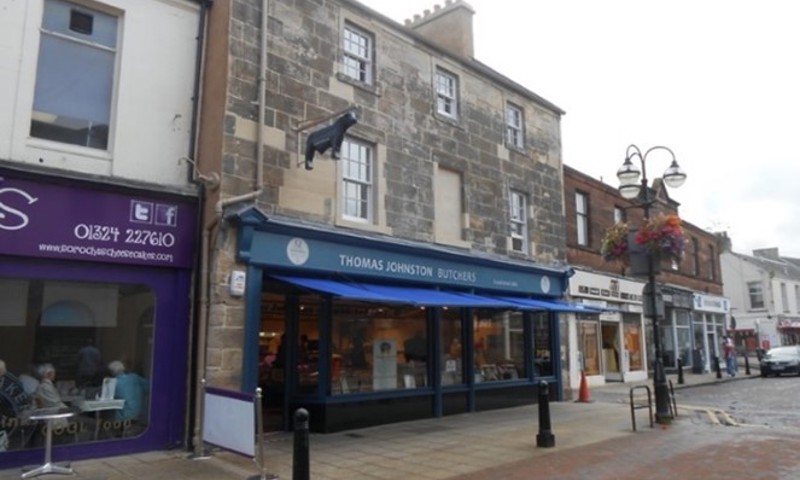 Key Findings/Conclusions
Funding for shopfront repair/reinstatement work included as part of a wider area based scheme can deliver many positive benefits, helping to make an area more attractive for locals and visitors. For HES funding to contribute to the shopfront repair/reinstatement work, it needs to be based on evidence of the original design, ideally repairing an in-situ historic shopfront. Sometimes, an increased grant intervention rate may be required to be offered to owners to encourage take up of the grant.
As in Falkirk, it can sometimes be helpful to have a local Business Improvement District (BID) established which can work with the CARS project officer and local business owners to encourage interest in the available funding and potentially offer additional funding. Falkirk BID were able to continue to make grants available for shopfront enhancement work after the CARS was complete.
Given that retail units can often change ownership/tenancy, it is important to consider how to put in place measures to ensure that new owners/tenants don't reverse the grant-aided work or introduce inappropriate signage. To address this, Falkirk Council has ensured strict development control which has been important with regards to succession planning. This was considered early on in the scheme with the participation of development management in the scheme's steering group to ensure continuity in terms of informal monitoring of any ongoing changes as shop units change.