Experts working on Scotland's Rock Art Project, a five-year project to record and research prehistoric rock art across the country, will deliver a talk in Kirkcudbright on 13 September and a free training session in late October in Whithorn, Dumfries and Galloway.
The Rock Art scheme run by Historic Environment Scotland (HES), with funding from the Arts and Humanities Research Council, is a five year project dedicated to training and supporting community groups to identify and record rock art in Scotland. The over-all aim of the project is to improve understanding of Scotland's rock art and to collect data on prehistoric art in Scotland.
The talk, hosted by Kirkcudbright History Society, will take place at Kirkcudbright Parish Church Hall on Wednesday 13 September at 7.30pm and will outline information on the project and how communities can get involved in the training programme that will take place in late October.
Principal Investigator Dr Tertia Barnett, leading on the Rock Art project, said:
"Scotland's rock art is prehistoric motifs carved onto natural rock surfaces in the open air across Scotland.
This is a great opportunity for people in the Dumfries and Galloway community to hear more about this project, which is the largest survey of its kind ever undertaken across Scotland.
"We know of almost 2,400 prehistoric carved rocks in Scotland but we know very little about why they were made or how they got there. They remain one of the most enigmatic aspects of our past and this talk will offer some great discussion and hopefully inspire people in Dumfries and Galloway to take part in the free training session to help explore further studies on rock art in Scotland."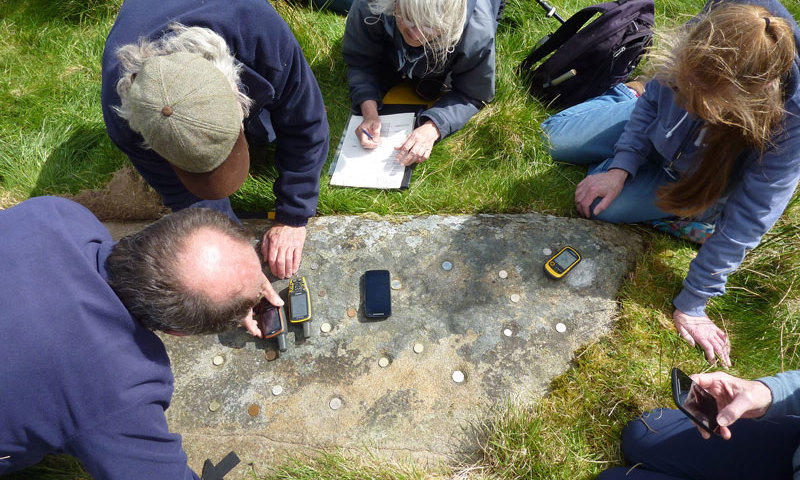 The Whithorn Trust will deliver a one day training session on the 28 October.  The session will take place inside the Whithorn Trust and off-site at a nearby rock art panel. The training will provide advice on how to find and identify prehistoric rock art, how to record findings and how to submit the information to the database for Scotland's rock art. Anyone can be involved and no previous experience is needed.
For further information regarding the talk on Wednesday 13 September, please contact: ScRAP@hes.scot
For further information regarding the training session on 28 October, please contact: Julia Muir-Watt, Whithorn Trust, juliamuirwatt@btconnect.com
About Historic Environment Scotland (HES)
Year of History, Heritage and Archaeology 2017
2017 is the Year of History, Heritage and Archaeology (HHA), a year that will celebrate Scotland's people, our distinct culture and traditions, our historic landscapes, attractions and icons as well as our hidden gems and amazing stories. From World Heritage Sites to ancient monuments, listed buildings to historic battlefields, cultural traditions to our myths, stories and legends, 2017 is the year to explore Scotland's fascinating past. This is a Scottish Government initiative being led by VisitScotland and a variety of partners.
Get involved on Twitter with #HHA2017

Follow Historic Environment Scotland
Twitter: @HistEnvScot | @welovehistory 
Facebook: @HistoricEnvScotland | @VisitHistoricScotland
For further information
Miriam Morris
Historic Environment Scotland Media Office
Direct Line: 0131 668 8603
Mobile: 07763 520 003
miriam.morris@hes.scot