Horses, knights and lances are at the ready as Spectacular Jousting returns to Linlithgow Palace on 1 and 2 July. To help celebrate the year of History, Heritage and Archaeology, visitors can take part in a thrilling festival of horsemanship, pageantry and music as a host of colourful, historic characters battle it out to be crowned the King's Champion.
The jousting gives spectators the chance to see an impressive display of arms and armour at close range as knights take to their steeds for shield-splintering exhibitions of strength and horsemanship.  
Visitors can also meet the knights, try their hand at hobby horse jousting and wander through their camps on Linlithgow's Peel to learn about medieval life from the knights and their aides. 
There will also be opportunities to learn about medieval hunting with the court falconer, witness impressive medieval archery and see what jovial tricks the Court Jester is getting up to.
Gillian Urquhart, Events Manager for Historic Environment Scotland, said,
"Spectacular Jousting is one of our most popular events, so it's great to see its return to Linlithgow Palace. Visitors can cheer on their champion and get lost in the full experience of medieval life for a day. It's entertainment for the whole family and one not to be missed!"
The HES Collections team will also be on site with objects spanning over 500 years of Scotland's history. Visitors will have the opportunity to put on a pair of white gloves and handle real artefacts.
This year, during Scotland's Year of History, Heritage and Archaeology, Spectacular Jousting will also take centre stage at Caerlaverock Castle, Dumfries and Galloway, as it returns for the first time in a decade, on Saturday 29 and Sunday 30 July. With its moat, twin towered gatehouse and imposing battlements, Caerlaverock Castle is a medieval stronghold and another great spot for a day of jousting and family fun.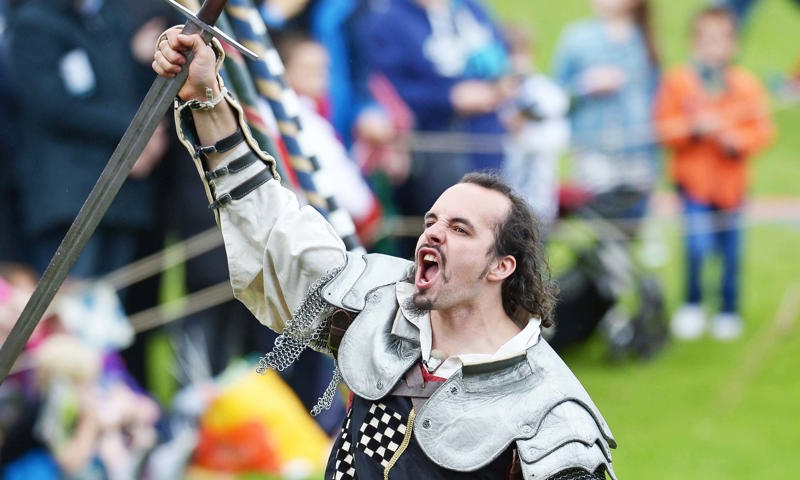 Spectacular Jousting at Linlithgow Palace will take place on Saturday 1 and Sunday 2 July from 12.30pm to 4.30pm. Tickets  can be bought on the day as well as in advance and are priced at £13.00 for adults, £11 for concessions, £8.00 for children (aged 5-15 years old) with under-fives going free. Family tickets are also available. A 10% discount is available when tickets are purchased online in advance.
For more information and to purchase tickets please visit our Spectacular Jousting page. This popular event is free for Historic Scotland Members, just show your card on arrival.
Limited parking is available at Oracle, Blackness Road, Springfield, Linlithgow EH49 7LR. This is allocated on first come first service basis and AA signage will be in place.
About Historic Environment Scotland (HES)
Year of History, Heritage and Archaeology 2017
2017 is the Year of History, Heritage and Archaeology (HHA), a year that will celebrate Scotland's people, our distinct culture and traditions, our historic landscapes, attractions and icons as well as our hidden gems and amazing stories. From World Heritage Sites to ancient monuments, listed buildings to historic battlefields, cultural traditions to our myths, stories and legends, 2017 is the year to explore Scotland's fascinating past. This is a Scottish Government initiative being led by VisitScotland and a variety of partners.
Get involved on Twitter with #HHA2017

Follow Historic Environment Scotland
Twitter: @HistEnvScot | @welovehistory 
Facebook: @HistoricEnvScotland | @VisitHistoricScotland
For further information
Miriam Morris
Historic Environment Scotland Media Office
Direct Line: 0131 668 8603
Mobile: 07763 520 003
miriam.morris@hes.scot