Today we're inviting you to take a look back at the significant figures from Scotland's past who were celebrated with a plaque in 2018.
The HES Commemorative Plaque scheme, which has been running since 2012, celebrates significant figures from Scotland's history by erecting plaques on the buildings where they lived or worked.
Past nominees for the scheme have included artists, scientists, inventors, philanthropists, actors, engineers, explorers, suffragettes, poets, politicians, writers and architects.
Fifteen individuals have been awarded plaques in 2018:
Frederick Douglass, African American abolitionist and author. A former slave, Douglass spent time in Scotland organising anti-slavery campaigns. He is the first black person to be honoured through the Commemorative Plaque scheme. 33 Gilmore Place, Edinburgh EH3 9NG.
Bram Stoker, Irish author best known for his 1897 gothic novel Dracula. Stoker spent time in Aberdeenshire while writing this definitive work, with Slains Castle purportedly providing inspiration. Kilmarnock Arms Hotel, Bridge Street, Cruden Bay, Aberdeenshire AB42 0HD.
Lewis Grassic Gibbon, one of the foremost Scottish writers of the 20th century. Perhaps best known as the author of Sunset Song, he started his writing career in the north-east as a journalist for the Aberdeen Journal in 1917, before turning his hand to fiction. Arduthie Primary School, Arduthie Road, Stonehaven, AB39 2DP.
William Lamb, Scottish artist and sculptor who fought in the Battle of Passchendaele, where he severely injured his dominant right hand and learned to draw and paint with his left hand. He was one of Scotland's leading sculptors of the early 20th Century and was commissioned to produce portraits of members of the royal family. William Lamb Studio, Trades Close, 24 Market Street, Montrose DD10 8NB.
Lady Margaret Sackville, British poet and author whose works focussed on the brutality of war and women's social freedom. A member of the anti-war Union of Democratic Control, her pacifist views coloured her First World War poetry. 30 Regent Terrace, Edinburgh Edinburgh EH7 5AH.
Charles Hamilton Sorley, British Army Officer and Scottish war poet, killed in action in 1915 at only 21-years-old. His letters and poetry from the early months of conflict showed remarkable talent and individuality for one so young. Powis House (now Powis Community Centre) 11 Powis Circus, Aberdeen AB24 3YX.
Joseph Lee, Dundee-born journalist, artist and poet who chronicled life in the trenches. His sketches also depicted the prison camps of the First World War, after he was taken prisoner in 1917 and spent the rest of the war in an internment camp. 18 Airlie Place, Dundee DD1 4HU.
Mary Symon, Scottish poet who penned several of the best-known poems telling the impact of the First World War upon the people of Scotland. Her most memorable poetry told of the enduring heartbreak of those left behind. Pittyvaich House, Old Mortlach, Dufftown AB55 4BR.
Alexander Bain, Caithness-born inventor. He invented the chemical telegraph and the first electric current-powered clock, along with an experimental fax machine (marking the first time an image was ever transmitted from one location to another) and was responsible for installing railway telegraph lines between Edinburgh and Glasgow. He died in poverty due to the cost of multiple lawsuits relating to his patents. 21 Hanover Street, Edinburgh EH2 2DL.
Christian Maclagan, believed to be the first female archaeologist in Scotland. Her major achievement was her meticulous collection of rubbings of Pictish era stones, and she was also a pioneer of stratigraphic excavation and of scholarship on brochs. 19 Clarendon Place, Stirling FK8 2QW.
Cyril Percy Ryan, developed Hydrophones for use in submarine detection while working at Hawkcraig Point

experimental mining station in Fife

. Hawkcraig Cottage, Aberdour KY3 0TZ.
Elizabeth Sanderson Haldane, an eminent public figure, author, biographer, philosopher, suffragist, nursing administrator and social welfare worker. She became the first female Justice of the Peace in Scotland in 1920. 17 Charlotte Square, John Knox House, Edinburgh EH4 4DJ.
Charles Lapworth, English geologist who pioneered faunal analysis using index fossils and identified the Ordovician period. He moved to the Scottish border region, where he investigated the previously little-known fossil fauna of the area. 4/6 Abbotsford Road, Galashiels TD1 3DS.
Christian Watt, whose memoirs give insight into the lives of fishing families in the latter half of the 19th Century. Born in Fraserburgh, her four brothers, husband and 13-year-old son were all fishermen killed at sea. 72 Main Street, Broadsea, Fraserburgh, Aberdeenshire AB43 9RT.
Murdoch MacKenzie, Scottish hydrographer and cartographer. He is known for his survey of the Orkney Islands. The subsequent maps, known as the MacKenzie Charts, are still in use. He is credited with the invention of the station pointer, a navigational tool that preceded the marine sextant and chronometer. Kirkwall Flood Wall, Kirkwall, Orkney Isles KW15 1QX.
Caroline Clark, Acting Head of Grants at HES, said:
Since the Commemorative Plaque Scheme launched in 2012, we've celebrated a range of figures who have made a significant contribution to Scotland's history – from artists to engineers; sportspeople to surgeons; politicians to poets.
"Not only does the Commemorative Plaque scheme honour these figures, it also highlights the important links between people and places - making the connection between the individual and the built environment that shaped their life and work."
Nominations will open for the 2019 Commemorative Plaque Scheme early next year.
Find out more
About Historic Environment Scotland (HES)
We are the lead public body charged with caring for, protecting and promoting the historic environment. We will lead on delivering Scotland's first strategy for the historic environment, Our Place in Time.
Historic Scotland, Scran, Canmore, The National Collection of Aerial Photography (NCAP), The Engine Shed, Stirling Castle and Edinburgh Castle are sub-brands of HES.
View our press pack and keep up to date by registering for media release email alerts. If you wish to unsubscribe, please contact us.
Year of Young People 2018
The Year of Young People (YoYP 2018) will inspire Scotland through its young people aged 8 to 26, celebrating their achievements, valuing their contributions to communities and creating new opportunities for them to shine locally, nationally and globally. Over 200 young people throughout Scotland will become #YOYP2018 Ambassadors, ensuring their communities know about local opportunities to celebrate young people.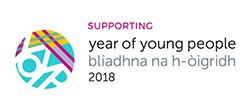 Follow Historic Environment Scotland
Twitter: @HistEnvScot | @welovehistory
Facebook: @HistoricEnvScotland | @VisitHistoricScotland
Instagram: @HistEnvScot | @historicscotland
For further information, please contact:
Claire Mullaney
Historic Environment Scotland Media Office
Direct line: 0131 668 8588
Mobile: 07881 512 379
communications@hes.scot