Historic Perthshire was the setting for an innovative new partnership between Venture Trust and Historic Environment Scotland (HES) that saw a group of vulnerable women exploring and understanding the past in order to move towards a better future.
Understanding Our Place in Time – funded by The National Lottery Heritage Fund - combines historic and heritage themes with Venture Trust's Next Steps programme which supports women involved in offending or at high risk of offending, suffering from trauma or abusive relationships, facing homelessness, misuse of drugs or alcohol or other challenging life circumstances.
The personal development programme is made up of three-phases one of which involves getting women into the outdoors. This is preceded by one-to-one support followed with ongoing skills development in the community. HES and Venture Trust staff will work together to weave heritage and the historic environment throughout the programme.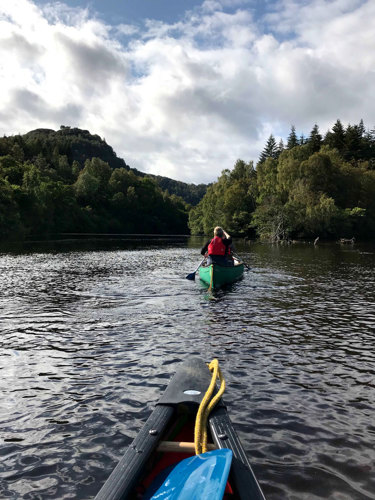 For many Next Steps participants life has been filled with chaos, fear and anxiety. Engaging in history and getting outdoors is often the furthest thing from their minds or is not possible in their current situation.
During the five-day outdoor residential phase in Perthshire, while hiking, abseiling, and canoeing the group of women learnt history isn't just about their past, it is a vital part of all their lives, right now. It tells about the past, the present – and even points the way to the future. The historic environment makes a real difference to people's lives. A difference to health, economy, culture and environment.
Reaching out to touch the ancient stone wall of Dunkeld's ruined cathedral, drifting on Loch Faskally to learn about an old hydro-electric power station and hearing and creating their own tales and myths the women saw the historic environment, connected with it, created it, understood it and explored it. Something they will be able to continue to do in everyday life.
HES senior casework officer James Turner said:
"Using Venture Trust's outdoor learning approach, and Historic Environment Scotland's mission to widen opportunities for everyone to understand, enjoy, and connect with the historic environment, we greatly welcomed the opportunity to work with the participants of this project.
"We visited Dunkeld Cathedral to consider how the historic environment can offer a valuable resource and breathing space from day to day life, took a canoe trip on Loch Faskally to chat about the B-listed 1950 Clunie hydro-electric power station and its place in the landscape, and rounded up our involvement with a session discussing local folklore, ballads and storytelling.
We hope we have been able to show that the past can make a better future, change lives for the better, make us feel happier, more informed, better connected, and to encourage all of us to get outdoors and active."
Venture Trust head of operations Mike Strang said:
A connection to our heritage is important, as it brings us closer to our land, brings an insight into what has been there before and our roots. It teaches us what we need to do to safeguard for future generations. Understanding our heritage also builds connection with our communities and society creating bonds and contributors.
"We are delighted to be able to work with HES to build heritage into our Next Steps programme."
Head of The National Lottery Heritage Fund Scotland Caroline Clark said:
"The National Lottery Heritage Fund encourages organisations working in heritage to approach and engage with others who have broader health and wellbeing aims. Understanding Our Place in Time: Women at risk of offending discovering their place in heritage is a fine example of organisations working together, helping individuals to be more active and have a positive impact on their wellbeing."
About Venture Trust
Venture Trust believes that people have the ability to make positive changes in their lives for a more productive future. Venture Trust supports people who are struggling with complicated life circumstances such as being 'looked after' by Local Authorities, involvement in offending, homelessness, drug and alcohol misuse, caring responsibilities and other complications in their lives.
Venture Trust offers a three-phase personal and social development programme, working in communities across Scotland. The programme involves an intensive wilderness-based element, mentoring, and employability support which aims to help people unlock their potential. This may be better communication skills, consequential thinking and building positive relationships with others, growing in confidence and self-esteem, or moving towards education, training and employment.
About Historic Environment Scotland (HES)
We are the lead public body charged with caring for, protecting and promoting the historic environment. We will lead on delivering Scotland's first strategy for the historic environment,

 

Our Place in Time.
Historic Scotland, Scran, Canmore, The National Collection of Aerial Photography (NCAP), The Engine Shed, Stirling Castle and Edinburgh Castle are sub-brands of HES.
View our press pack and keep up to date by registering for media release email alerts. If you wish to unsubscribe, please contact us.
Follow Historic Environment Scotland
Twitter: @HistEnvScot | @welovehistory
Facebook: @HistoricEnvScotland | @VisitHistoricScotland
Instagram: @HistEnvScot | @historicscotland
For further information, please contact:
Stacey Dent
Historic Environment Scotland Media Office
Direct line: 0131 668 8097
Mobile: 07557 489 322
communications@hes.scot