The first plaque was unveiled in Aberdeen last week (Friday 2 November) to honour the young Scottish war poet, Charles Hamilton Sorley. Sorley's honest account of the war was told through his poetry, which was recovered from the Western Front and published posthumously after his death in 1915.
The five plaques have been awarded under the 2018 round of the Commemorative Plaque Scheme, which celebrates the lives of significant people by erecting memorials on the buildings where they lived or worked.
The plaques have been awarded to the following individuals: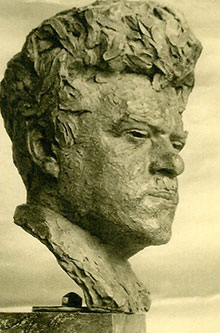 William Lamb (1893 - 1951): Scottish artist and sculptor who fought in the Battle of Passchendaele, where he severely injured his dominant right hand and learned to draw and paint with his left hand. He was one of Scotland's leading sculptors of the early 20th Century and was commissioned to produce portraits of members of the royal family.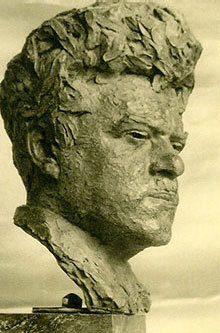 Image courtesy of Neil Werninck (JRW Stansfeld).
Plaque location: William Lamb Studio, 24 Market Street, Montrose, which was designed by Lamb himself and has been preserved much as it was when he worked there.
Lady Margaret Sackville (1881 - 1963): British poet and author whose works focussed on the brutality of war and women's social freedom. A member of the anti-war Union of Democratic Control, her pacifist views coloured her First World War poetry.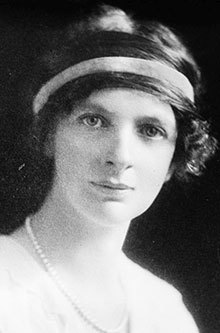 Image courtesy of George Grantham Bain Collection (Library of Congress).
Plaque location: 30 Regent Terrace, Edinburgh where Sackville once lived.
Charles Hamilton Sorley (1895 - 1915): British Army Officer and Scottish war poet, killed in action in 1915 at only 21-years-old. His letters and poetry from the early months of conflict showed remarkable talent and individuality for one so young.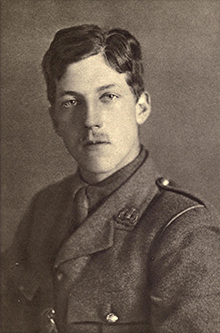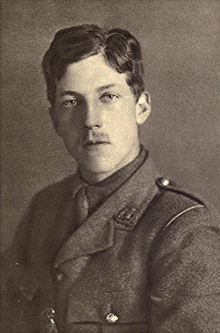 Plaque location: Powis House (now Powis Community Centre), 11 Powis Circus, Aberdeen where Sorley lived as a child.
Joseph Lee (1876 - 1949): A Dundee-born journalist, artist and poet who chronicled life in the trenches. His sketches also depicted the prison camps of the First World War, after he was taken prisoner in 1917 and spent the rest of the war in an internment camp.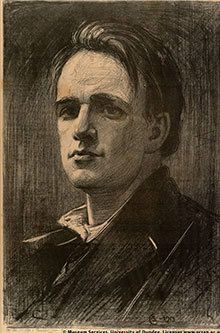 Image courtesy of Museum Services, University of Dundee
Plaque location: 18 Airlie Place, Dundee, which is the closest surviving building to where Lee lived for much of his time in Dundee.
Mary Symon (1863 - 1938): Scottish poet who penned several of the best-known poems telling the impact of the First World War upon the people of Scotland. Her most memorable poetry told of the enduring heartbreak of those left behind.
Plaque location: Dufftown, where Symon lived and died.
HES Head of Grants, Thomas Knowles, said:
"The Commemorative Plaque Scheme recognises people from all walks of life who have made an impact on Scottish history. We are delighted to include five creative historic figures whose poetry, writing and art have recorded the tragedies and impact of the First World War. Their stories are part of the legacy of the war on Scotland and its people, both at home and overseas."
Cabinet Secretary for Culture, Tourism and External Affairs, Fiona Hyslop, said:
"I am pleased the latest round of plaques will commemorate some of the finest war poets and creative historic figures. Through their writing they have made an incredible contribution to the history of our country, recording the tragedies and horrors of the First World War and leaving a lasting legacy for future generations.
These plaques, which come as we mark Armistice Day and the 100th anniversary of the end of the First World War, will lead to a greater recognition of these remarkable people and the contribution they have made, in many cases, to the wider world."
As part of its First World War commemorations, the HES Archive and Library at John Sinclair House, Edinburgh is hosting the new exhibition, First World War: Impact and Legacy. Showcasing original material and photography from its collections, the exhibition runs until Friday 7 December.
Visit the exhibition
The remaining eight successful plaque nominations under the 2018 Commemorative Plaque Scheme will be announced over the coming months.
About Historic Environment Scotland (HES)
We are the lead public body charged with caring for, protecting and promoting the historic environment. We will lead on delivering Scotland's first strategy for the historic environment,

 

Our Place in Time.
Historic Scotland, Scran, Canmore, The National Collection of Aerial Photography (NCAP), The Engine Shed, Stirling Castle and Edinburgh Castle are sub-brands of HES.
View our

 

press pack

 

and keep up to date by

 

registering for media release email alerts. If you wish to unsubscribe, please

 

contact us.
Year of Young People 2018
The Year of Young People (YoYP 2018) will inspire Scotland through its young people aged 8 to 26, celebrating their achievements, valuing their contributions to communities and creating new opportunities for them to shine locally, nationally and globally. Over 200 young people throughout Scotland will become #YOYP2018 Ambassadors, ensuring their communities know about local opportunities to celebrate young people.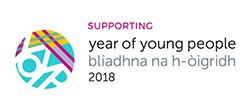 Follow Historic Environment Scotland
Twitter: @HistEnvScot | @welovehistory
Facebook: @HistoricEnvScotland | @VisitHistoricScotland
Instagram: @HistEnvScot | @historicscotland
For further information, please contact: 
Blake Hardy
Historic Environment Scotland Media Office
Direct line: 0131 668 8603
Mobile: 07776 226 414
Email: 
communications@hes.scot