A rare Pictish symbol stone has been discovered on the banks of the River Don in Dyce, Aberdeen.
The river's low water level, resulting from the recent sustained spell of warm and dry weather, led to the unearthing of the stone which had become partially exposed from the river bank.
Survey and removal of the stone was coordinated by teams from Historic Environment Scotland (HES), Aberdeenshire Council and The University of Aberdeen, which confirmed the stone to be a Class I Pictish symbol stone – an unworked stone with carved symbols including a triple disc with cross bar, a mirror, and a notched rectangle with two internal spirals.
Kirsty Owen, Deputy Head of Archaeology at HES, said:
We're very excited by this find, made all the more remarkable by the brief window of opportunity we had to recover the stone before the water levels rose again.
"AOC Archaeology, our emergency call off contractors, worked with a specialist lifting company to carefully and safely remove the stone from the river.
"This is a wonderful example of a local authority, university, national body and commercial archaeological company working together to save a significant piece of Scotland's archaeological heritage."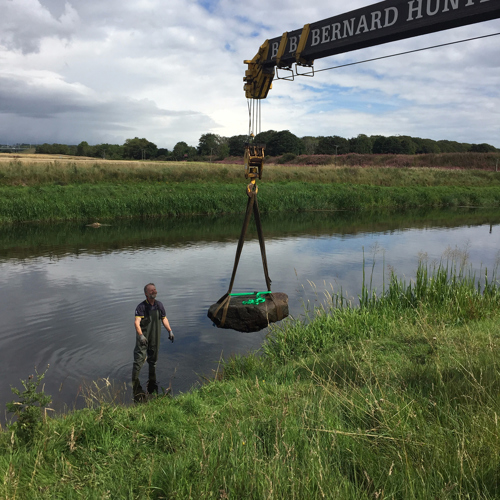 Pictish symbol stones are among Scotland's most distinctive monuments. Their elegant and vivid symbols and images can be found carved into boulders and slabs of rock, and on specially cut and shaped free-standing stones. Class I Pictish stones date to between 6th to 8th Centuries AD, and are typically unworked stones with carved symbols. The meaning of the symbols is debated, but it is believed they may represent the names of individuals or groups.
This new discovery is one of a number of impressive finds in the north-east of Scotland, which include an early Pictish stone now on display at the Church of St. Fergus, Dyce, close to where the new find was unearthed.
Bruce Mann, Local Authority Archaeologist for Aberdeen and Aberdeenshire, said: "The exceptional summer has led to river levels being at their lowest for decades, so there was always a chance that something new would be found. However, I certainly didn't expect a find as stunning as this.
"Pictish symbol-stones are incredibly rare, and this one, with its apparent connection to the river, adds further to the discussions around their meaning and what they were used for."
The Picts are one of Europe's 'lost people', chiefly known for their elaborately decorated memorial stones found throughout eastern Scotland, from Shetland to the Firth of Forth.
Gordon Noble, Head of Archaeology at the University of Aberdeen, is currently leading a major research project into the early medieval Kingdoms of northern Scotland and Ireland. He said:
The distinctive set of symbols carved into the stone meant we were quickly able to identify it as belonging to the Pictish tradition.
"Although there is a corpus of more than 200 of these stones across Scotland, each one is unique and this is a fantastic example which enables us to fill some of the gaps in the record and helps us to trace the development of literacy in north-east Scotland. As such, it is a very significant find."
The Lord Provost of Aberdeen, Barney Crockett, said: "This is a fantastic find and another great offshoot of the marvellous summer we have been enjoying. The Pictish symbol stone is yet another example of how lucky we are in Aberdeen in having such amazing history on our doorstep".
The stone has now been reported to the Crown Office's Treasure Trove Unit, and temporarily moved to Edinburgh while discussions on where it will be permanently housed are ongoing.
About Historic Environment Scotland (HES)
We are the lead public body charged with caring for, protecting and promoting the historic environment. We will lead on delivering Scotland's first strategy for the historic environment, Our Place in Time.
Historic Scotland, Scran, Canmore, The National Collection of Aerial Photography (NCAP), The Engine Shed, Stirling Castle and Edinburgh Castle are sub-brands of HES.
View our press pack and keep up to date by registering for media release email alerts. If you wish to unsubscribe, please contact us.
Year of Young People 2018
The Year of Young People (YoYP 2018) will inspire Scotland through its young people aged 8 to 26, celebrating their achievements, valuing their contributions to communities and creating new opportunities for them to shine locally, nationally and globally. Over 200 young people throughout Scotland will become #YOYP2018 Ambassadors, ensuring their communities know about local opportunities to celebrate young people.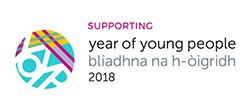 Follow Historic Environment Scotland
Twitter: @HistEnvScot | @welovehistory
Facebook: @HistoricEnvScotland | @VisitHistoricScotland
Instagram: @HistEnvScot | @historicscotland
For further information, please contact:
Claire Mullaney
Historic Environment Scotland Media Office
Direct line: 0131 668 8588
Mobile: 07881 512 379
Email:
communications@hes.scot