Historic Environment Scotland (HES) has announced the next stage of conservation work at the world famous Ring of Brodgar, part of the Heart of Neolithic Orkney World Heritage Site.
The 4000-year old Ring of Brodgar is one of the largest stone circles in Britain, with 27 standing stones occupying a narrow spur of land separating the freshwater Loch of Harray and from the saltwater Loch of Stenness.
The low lying position, exposed terrain and proximity to two major bodies of water has long posed challenges in drainage, with the combination of wet weather and soft turf paths resulting in boggy conditions and wear to the turf. To tackle this, HES began a programme of improvements in 2016, which are now nearing completion, with replacement of some areas of turf and the temporary restriction of the inner circle path. To help keep the locally cultivated turf healthy, £10,000 is to be invested in new equipment for the Kirkwall-based Monument Conservation team.
Describing the work carried out to date, HES District Architect Stephen Watt, said:
We've examined techniques used at other Neolithic sites, such as Stonehenge, to create a hidden system that allows natural drainage without disrupting the important archaeological layer.
"By layering with a geotextile membrane, gravel, sand and perforated pipes topped with wear resistant turf, water can be drawn away from the pathways, without the need for deep excavation.
"We are now working to replace some areas of worn turf, while we allow all of the recently laid turf to bed in over winter and spring."
The restrictions on access to the inner path will begin from 22 November. Signage and fencing will direct visitors to the outer pathway, which affords a clear view across the site.
From Spring 2018, restrictions on the inner circle will be lifted and a new management plan implemented. This will see alternating routes round the circle introduced to allow parts of the pathways to rest and the addition of temporary raised walkways over the access causeways, where footfall is concentrated.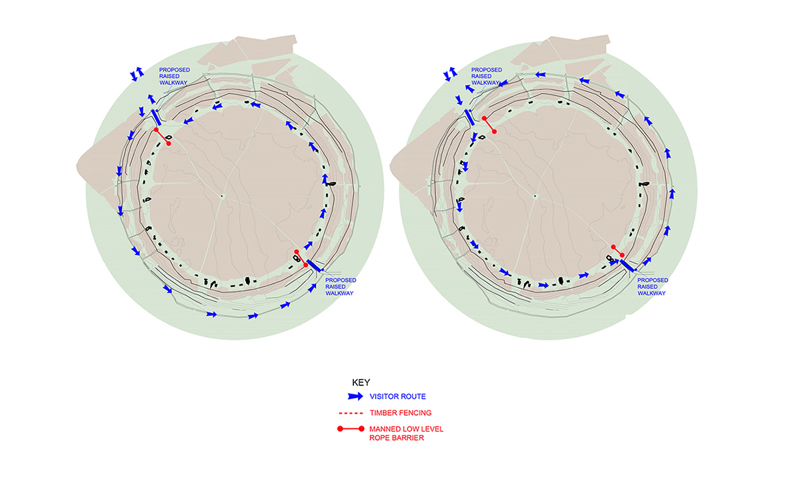 Orkney World Heritage Site Ranger Sandra Miller welcomed the work, saying: "The Ring of Brodgar combines a stunning natural beauty with the archaeological legacy left by Orkney's Neolithic society. We want to make sure that people can keep enjoying it year round, with continued access to the inner ring path. The work that's been done over the last two years and the new management plan will make sure that visitors can continue to experience the full thrill of the site.
Our free guided walks will be continuing on through the winter months, with walks on most Thursday afternoons. I'm looking forward to being able to tell our visitors about the latest work. "
Improvements on site are part of a larger plan to monitor and record the conditions of Ring of Brodgar, with HES also looking at remote visitor access options such as creating 3D digital models of the stones and the site.
Notes to Editors 
Work at Ring of Brodgar is part of a wider package of investment in Orkney by Historic Environment Scotland. Work is currently underway to conserve the 1930s-era structure protecting Midhowe Chambered Cairn on Rousey, while HES are currently engaging on the future of the High Seas Fleet in Scapa Flow. Please contact us for further details on either of these projects.
About Historic Environment Scotland (HES)
Year of History, Heritage and Archaeology 2017
2017 is the Year of History, Heritage and Archaeology (HHA), a year that will celebrate Scotland's people, our distinct culture and traditions, our historic landscapes, attractions and icons as well as our hidden gems and amazing stories. From World Heritage Sites to ancient monuments, listed buildings to historic battlefields, cultural traditions to our myths, stories and legends, 2017 is the year to explore Scotland's fascinating past. This is a Scottish Government initiative being led by VisitScotland and a variety of partners.
Get involved on Twitter with #HHA2017

Follow Historic Environment Scotland
Twitter: @HistEnvScot | @welovehistory 
Facebook: @HistoricEnvScotland | @VisitHistoricScotland
For further information, please contact:
Seumas Skinner
Historic Environment Scotland Media Office
Direct Line: 0131 668 8714
Mobile: 07776 243 809
seumas.skinner@hes.scot