The north-east, cliff-top property that is thought to have inspired Bram Stoker's Dracula and which features in Samuel Johnson and James Boswell's travels of Scotland has been awarded listed status by Historic Environment Scotland (HES).
The listing recognises the special architectural and historic interest of New Slains Castle, from its origins in the 16th century to its significant remodelling in the 19th century. Its spectacular clifftop setting and fascinating historical connections, also contributed to the decision to list.
Head of Designations Elizabeth McCrone said: "New Slains Castle is a fantastic addition to Scotland's diverse range of listed buildings.
"This impressive ruin has four centuries of history to tell us about and it is remarkable, not only for its architecture, but also for its literary associations.
"Dr Samuel Johnson and his biographer James Boswell visited New Slains Castle in 1773 and both were moved to write about it in their subsequent famous journals about their tour of Scotland. In the 19th century the author Bram Stoker stayed in the area and the Castle is said to have helped to inspire his most famous novel, Dracula. 
"Today, it continues to dominate the landscape and command views over the North Sea – making it a unique landmark in the area. Listing will help to ensure that its interest is recognised for future generations."
The castle was constructed in the 16th century by Francis Hay, to replace Old Slains Castle, which was destroyed in reprisal for Hay's participation in a rebellion against James VI. Hay constructed the castle in a contemporary style, with a tower and wings partially enclosing a courtyard. The use of such as design in a completely new structure sets Slains aside from other similar castles, such as Dunotter and Pistligo, where older towers had wings added to form a courtyard.
Some of the Castle's most unusual features were added by Gilbert Hay, 11th Earl of Errol, in the 17th century. This series of modifications saw the addition of an enclosed gallery around the courtyard. Further additions took place in 1707, when a new entrance and frontage were added, along with the large bow window, which command a striking view of the North Sea. The final additions took place in 1836, when the exterior of the house was remodelled in a Tudor style by Aberdeen-based architect John Smith.
The Castle passed out of the Hay family in 1916, when the cost of death duties led Charles Hay to sell the castle. Following a further sale, the contents of the castle were sold off and the roof removed to exempt the property from tax.
The cliff-top location of New Slains Castle inspired Samuel Johnson to write:
"I would not for my amusement wish for a storm; but as storms, whether wished or not, will sometimes happen, I may say, without violation of humanity, that I should willingly look out upon them from Slanes Castle."
About Historic Environment Scotland (HES)
Year of Young People 2018
The Year of Young People (YoYP 2018) will inspire Scotland through its young people aged 8 to 26, celebrating their achievements, valuing their contributions to communities and creating new opportunities for them to shine locally, nationally and globally. Over 200 young people throughout Scotland will become #YOYP2018 Ambassadors, ensuring their communities know about local opportunities to celebrate young people.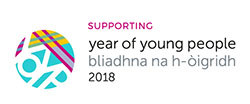 Follow Historic Environment Scotland
Twitter: @HistEnvScot | @welovehistory 
Facebook: @HistoricEnvScotland | @VisitHistoricScotland
For further information, please contact:
Seumas Skinner 
Historic Environment Scotland Media Office
Direct Line: 0131 668 8714
Mobile: 07776 243 809
seumas.skinner@hes.scot