The plan outlines the actions the organisation will take over the next four years to deliver its equalities commitments and continue to challenge inequality and discrimination; celebrate diversity and inclusion; and realise its vision of "heritage for all".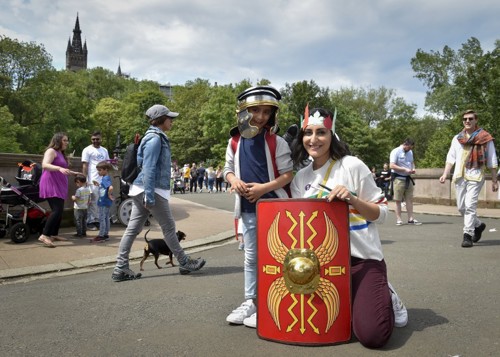 These outcomes have been shaped in consultation with HES's own staff, as well as a wide range of partners and stakeholders representing Scotland's diverse communities. These encompass the organisation's response to significant events of the past 12 months, including the ongoing impacts of the COVID-19 pandemic in terms of health, wellbeing and inequality; and issues of diversity and representation in Scotland's history and heritage brought to the fore by movements such as Black Lives Matter.
Over the next four years, HES will work with communities across the country to use the historic environment to make a real difference to people's lives, connecting people with the heritage on their doorstep and maximising the contribution that the historic environment can make to wellbeing, identity and community for everyone in Scotland.
The organisation will also work to ensure that Scotland's historic environment continues to be inclusive and accessible for all, putting the needs and expectations of diverse groups at the heart of its service delivery and development in order to widen participation, engagement, and involvement in the historic environment.
Addressing underrepresentation of different groups within HES's workforce will also be a key focus of the years ahead, with commitments to improving diversity and inclusion at both board and senior leadership level, as well as across the organisation's wider workforce and volunteer base.
The plan has been published alongside HES's Mainstreaming and Equality Outcomes report, which highlights the progress the organisation has made on delivering its equalities commitments since 2017.
Key activity and achievements include:
Progress on gender representation at board level, achieving the statutory objective on Gender Representation on Public Boards with a profile of 50:50 women and men
Delivery of an equal pay audit reporting a median gender pay gap of 0%
Improved accessibility of HES's sites and collections, supported by development of a new Access Policy and British Sign Language (BSL) Plan
The launch of three internal equality networks organised and managed by staff to inform organisational policy and practice: Youth Forum, LGBT+ Network and Equity Forum
The commencement of work to reappraise the connections between Scotland's built heritage and its links with empire and the Transatlantic slave trade with the launch of the two-year Managing Imperial Legacies project in partnership with the University of Edinburgh and the Coalition for Racial Equality and Rights (CRER).
Alex Paterson, Chief Executive of HES, said:
"The publication of our Mainstreaming and Equality Outcomes report is an opportunity to reflect on the real progress we've made in this area over the past four years, as well as to reaffirm our commitment to tackling discrimination and championing equality as we look ahead to the work we will deliver in the years to come.
"The lessons we have learned over the past 12 months have helped shape our approach – from the impacts of the COVID-19 pandemic, which have heightened our awareness of existing inequalities and stressed the importance of health and wellbeing, to wider social justice causes such as the Black Lives Matter movement, which have caused us to reflect on our role and responsibility to tackle racial discrimination and ensure how we engage with and explore our history represents all of Scotland's people.
"In developing our equalities commitments we have engaged with a diverse range of partners and stakeholders, as well as our own staff. We recognise how crucial it will be to continue this dialogue as we embark on delivery of these outcomes, and continue to deliver our vision of heritage for all."
One of the partner organisations that HES has engaged with throughout development of the new equality outcomes is Forth Valley Sensory Centre. Welcoming the publication, Jacquie Winning MBE, CEO, said:
"I was delighted when HES invited Forth Valley Sensory Centre to be involved in their Equality Consultation last November as it demonstrated a genuine desire to acknowledge and factor in the needs of people with lived experience of Sensory Loss to their Equalities Outcomes.
"HES have demonstrated on more than one occasion that they are an inclusive organisation, committed to positive change."
Find out more here:
Full Equality Outcomes report
Equality Outcomes Report Easy Read version
About Historic Environment Scotland (HES) 
We are the lead public body charged with caring for, protecting and promoting the historic environment. We will lead on delivering Scotland's first strategy for the historic environment,

 

Our Place in Time.
Historic Scotland, Scran, Canmore, The National Collection of Aerial Photography (NCAP), The Engine Shed, Stirling Castle and Edinburgh Castle are sub-brands of HES.
View our

 

press pack

 

and keep up to date by

 

registering for media release email alerts. If you wish to unsubscribe, please

 

contact us.
Follow Historic Environment Scotland
Twitter: @HistEnvScot | @welovehistory
Facebook: @HistoricEnvScotland | @VisitHistoricScotland
Instagram: @HistEnvScot | @historicscotland
For further information, please contact:
Claire Mullaney
Historic Environment Scotland Media Office
Direct line: 0131 668 8588
Mobile: 07881 512 379
communications@hes.scot