The partnership brings together Historic Environment Scotland (HES), Orkney Islands Council and Highlands and Islands Enterprise, who have signed a Memorandum of Understanding (MOU) to conserve the Heart of Neolithic Orkney site and enhance the visitor experience for tourists and local people.
The first phase will see an initial investment of over £300,000 at the Stones of Stenness to upgrade car parking facilities and improve the pathways network to encourage greater connection between monuments and surrounding areas.
Funding will also be invested into looking at the visitor journey and exploring opportunities for greater connectivity and enhancement of how visitors experience over 5,000 years of history.
The signing and first phase of the project follows an initial scoping exercise to look at current challenges and opportunities facing the World Heritage Site, within the context of Orkney's wider heritage and tourism offer, particularly how to manage the growing number of visitors drawn to the site by its internationally famous monuments.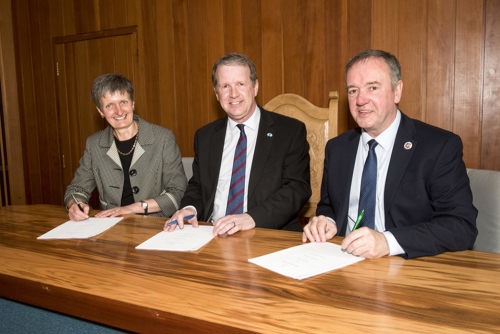 Designed to work alongside the existing World Heritage Site Management Plan, the Partnership, in consultation with industry and other stakeholder will look at areas including visitor flow management, infrastructure and connectivity.
The project will also see further investment in the island's visitor offer to create a destination-led approach, whilst championing opportunities for sustainable tourism.
Commenting on the partnership, Alex Paterson, Chief Executive of Historic Environment Scotland said:
Orkney's rich heritage is world renowned and we are continuing to welcome increasing visitor numbers who are keen to experience its story.
"This brings a number of benefits for those who live and work in the islands, however this needs to be balanced against the ongoing management of the island's tourisms assets by looking at existing connectivity, infrastructure and opportunities to encourage sustainable tourism.
"The MOU sets out a framework for how we will work together to champion the Orkney Islands heritage and tourism offer, with tangible outputs agreed and identified as part of Phase One. I look forward to working with partners to bring our ambitions to reality."
James Stockan, Leader of Orkney Islands Council, said:
This is a significant day in the long history of our World Heritage site and the internationally important monuments it contains.
"I now look forward to the development of a number of shared and ambitious projects that will greatly enhance the visitor experience for tourists and local people – taking it to a level that truly reflects the quality of these remarkable reminders of Orkney's Neolithic past.
"The agreement signed commits us to working side by side to care for the site - and ensure the best possible arrangements are in place to manage visitor numbers in the best interests of the site, the monuments and our community as a whole."
Carroll Buxton, Interim Chief Executive at HIE, said:
"Tourism is one of Orkney's key sectors and a source of valuable employment that is underpinned by World Heritage Site status. We look forward to working alongside HES and OIC to support proposals that spread the economic benefits from sustainable tourism throughout the county. As well as enhancing the visitor experience, this approach demonstrates a commitment to protecting Orkney's culture, heritage and exceptional landscapes while developing its tourism offering."
Photo credits: Frank Bradford
About Historic Environment Scotland (HES)
We are the lead public body charged with caring for, protecting and promoting the historic environment. We will lead on delivering Scotland's first strategy for the historic environment, Our Place in Time.
Historic Scotland, Scran, Canmore, The National Collection of Aerial Photography (NCAP), The Engine Shed, Stirling Castle and Edinburgh Castle are sub-brands of HES.
View our press pack and keep up to date by registering for media release email alerts. If you wish to unsubscribe, please contact us.
Follow Historic Environment Scotland
Twitter: @HistEnvScot | @welovehistory
Facebook: @HistoricEnvScotland | @VisitHistoricScotland
Instagram: @HistEnvScot | @historicscotland
For further information, please contact:
Iona Matheson
Historic Environment Scotland Media Office
Direct line: 0131 668 8703
Mobile: 07827 956 858
communications@hes.scot