A unique new book showcasing the country's stunning scenery, diverse settlements and historic sites will teach readers how to understand and appreciate the presence of Scotland's past within the modern landscape.
A History of Scotland's Landscapes is the most comprehensive work to date on Scotland's remarkable landscape history. Aimed at a general audience, the book contains hundreds of historic, landscape and aerial photographs, maps and rich artworks alongside an engaging narrative.
Written by medieval historian and broadcaster Dr Fiona Watson, and Historic Environment Scotland (HES) archaeologist Piers Dixon, the book offers an entirely new guide to Scotland by deciphering the shapes and patterns of its surroundings from the earliest times up to the present day.
The book draws on the results of an unprecedented 18-year project carried out by HES: the Historic Land-Use Assessment (HLA). The landmark study mapped present land-use activities - everything from industrial farming to ski areas - alongside past activities, such as charcoal burning and prehistoric agriculture and settlement, to show how the traces of history have survived today and can still be found all around.
A History of Scotland's Landscapes explores how landscape features developed and are continuing to evolve, and the ways in which land-use influenced the distinct characters of Scotland's regions. Through the book, readers will be able to identify the features of the past that may be present when they walk out their front door: from knowing what a 'cruive', 'hagg' or 'henge' is, to how to spot 'lazy beds' or 'runrigs' - words once used every day but are slowly slipping from modern vocabularies.
Dr Watson said:
"The book's main purpose is to explore how to 'read' a landscape; how to notice, even in passing, the depths of the past all around us.
"It is intended to be a celebration of what remains of the nation's historic landscapes and the work that has gone into revealing them.
"Thanks to the latest research that forms this book, we have a good idea of not only just how much remains, but also the extent to which the activities of our predecessors have shaped, and still shape, the places we live and work in today, even in the depths of our biggest cities."
Mr Dixon said: "We hope our book shows how the activities of our ancestors still fundamentally influence our modern world.
"Now we can see for the first time just how extensive the traces of prehistoric, Roman and medieval landscapes are in Scotland: from the surviving remnants of forts and settlements, to the first roads and deep marks left by millennia-old ploughing to farm fields.
"We have also been able to highlight important findings from the HLA study to provide insight on land-use today. We can see, for instance, that while the majority of people live in just 1.4 per cent of Scotland's land, forestry takes 15 per cent, fields and farms take up 23 per cent, and 'rough grazing' - areas that are too poor in quality for anything other than grazing sheep, deer or cattle - makes up a remarkable 51 per cent of the country."
A History of Scotland's Landscapes is published by Historic Environment Scotland and is available now from our online shop, and all good booksellers.
A launch event will be held at Golden Hare Books in Edinburgh on Wednesday 18 April.
About Historic Environment Scotland (HES)
Year of Young People 2018
The Year of Young People (YoYP 2018) will inspire Scotland through its young people aged 8 to 26, celebrating their achievements, valuing their contributions to communities and creating new opportunities for them to shine locally, nationally and globally. Over 200 young people throughout Scotland will become #YOYP2018 Ambassadors, ensuring their communities know about local opportunities to celebrate young people.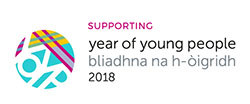 Follow Historic Environment Scotland
Twitter: @HistEnvScot | @welovehistory 
Facebook: @HistoricEnvScotland | @VisitHistoricScotland
For further information, please contact:
Blake Hardy 
Historic Environment Scotland Media Office
Direct Line: 0131 668 8603
Mobile: 0777 622 6414
blake.hardy@hes.scot