by Jane Ryder, OBE, Chair of Historic Environment Scotland
Just a few weeks after our formal launch on 1st October, Historic Environment Scotland, the new lead public body for heritage in Scotland has announced the award of over £1.7 million in grants. These grants will fund projects to restore five historic buildings across Scotland as part of our Building Repair Grant (BRG) scheme. The primary aim of the scheme is to provide financial help to owners of buildings of special architectural or historic interest to meet the cost of high quality repairs, But it is clear that there is more to the scheme than this: each of the projects being funded not only results in the restoration or repair of an historic building or structure but creates an end use for that building which has a community focus. Our recently announced round of grants includes the creation of an arts hub at Govanhill Baths in Glasgow, or a Civic Centre and council office space at Achintore School in Fort William, or creating a social housing space in the Gorbals area as part of a wider regeneration scheme.

Historic Environment Scotland is the result of the coming together of two of Scotland's leading heritage bodies, Historic Scotland and the Royal Commission on Ancient and Historical Monuments Scotland (RCAHMS), and is guided by principles outlined in the first Historic Environment Strategy for Scotland Our Place in Time. The key aim of that strategy is to ensure that the cultural, social, environmental and economic value of Scotland's historic environment continues to make a strong contribution to the wellbeing of the nation and its people. The BRG scheme is a clear example of those principles working in practice, by funding projects to reuse the historic environment to create tangible benefits for the community

The BRG scheme is not the only grant funding we offer which aims to make a difference to more than just the bricks and mortar. It is part of a wider commitment of around £14 million which we award annually to national and local organisations under various grants programmes. These programmes include building repairs, preserving ancient monuments, undertaking archaeological excavations and surveys, and our extensive Conservation Area Regeneration Schemes (CARS). Some of the most important grants we award are to voluntary bodies to carry out activities and projects vital to helping us to safeguard the historic environment. The voluntary sector in Scotland comprises 50,000 organisations and around one million volunteers. Volunteers clearly already add enormous value to public services and community life, but we hope to be able to strengthen their capacity to achieve their respective goals, particularly when they relate to the historic environment.

At HES we are all enthusiastic about our new organisation and its role but we are clear that the success of the Historic Environment Strategy is not dependent on one organisation, group, or individual, rather it depends on a concerted effort from the entire heritage sector, and the public which it serves. Each of these funding streams demonstrates another key principle of ours, which is to empower and enable others to get involved in protecting and making best use of the historic environment. Whether that be volunteers, other heritage organisations, or local authorities. The historic environment is not owned by one group or organisation but by the people of Scotland and I hope that others feel able to engage with HES in many different constructive and creative ways, so we can work together in order to protect and get the best out of the historic environment.
We want to build on the collective interest, expertise and co-operation that already exists there and provide a focal point for positive change, to continuously improve how Scotland looks after its historic environment.

By doing so we will make the country a better place to live, work, invest, and visit – protecting our past and shaping our future.
About Historic Environment Scotland (HES)
As of the 1st October 2015, Historic Scotland and RCAHMS came together to form a new lead public body charged with caring for, protecting and promoting the historic environment. The new body Historic Environment Scotland (HES) will lead on delivering Scotland's first strategy for the historic environment, Our Place in Time.
Historic Scotland is a sub brand of HES.
View our press pack and keep up to date by registering for media release email alerts. If you wish to unsubscribe, please contact us.
Year of Food and Drink 2015
2015 is the Year of Food and Drink, a celebration of Scotland's natural larder and the role that food and drink plays in shaping our economic success. Scotland generates over £2.5m per day through food and drink tourism. A series of themed months will create an appetite for key areas of Scotland's food and drink industries – from seafood and whisky to berries and high-quality meat.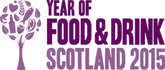 Follow Historic Environment Scotland
Twitter: @HistEnvScot | @welovehistory
Facebook: @HistoricEnvScotland | @VisitHistoricScotland
For further information
Alan Bannon
Historic Environment Scotland Media Office
Direct Line: 0131 668 8588
Mobile: 07854 366 805
communications@hes.scot