We are pleased to announce that we have now been accredited with a Healthy Working Lives (HWL) Gold Award. Having achieved the Bronze award in 2017 and the Silver in 2018, this builds upon the significant work that has been done to promote Health and Wellbeing to staff across the business.
In order to achieve this award, the Health and Wellbeing group, led by Angie Hamilton, Head of Wellbeing and People Engagement, submitted a portfolio of evidence and also met with Healthy Working Lives during a recent assessment visit. The organisation had to clearly demonstrate its engagement and dedication with health, safety and wellbeing.
Making the award, HWL commended the focus placed on health and wellbeing at HES, commenting that "Health and Wellbeing features prominently throughout the (People) Strategy which recognises that work and employee health and wellbeing are interlinked. The organisation has an associated Wellbeing Framework which supports their core values and the commitment set out within the People Strategy and the Scottish Government National Outcome to live longer, healthier lives."
The national award scheme is an initiative led by the Scottish Centre for Healthy Working Lives which encourages employers to promote health and wellbeing in order to encourage a healthier workforce.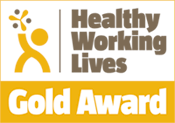 Gary Love, Director of Corporate Services, welcomed the award commenting: "This is a fantastic achievement for the Health and Wellbeing group, and for our wider organisation.
Staff are fundamental in the success of the business and, as we outline in our People Strategy, their health and wellbeing is a key focus for HES.
"I would like to congratulate all those involved in helping achieve this Gold Award, and look forward to continuing our work to improve staff health and wellbeing across the business."
HWL also highlighted the effective links that the Health and Wellbeing team have created with both other teams internally and external partners. This includes teams such as Climate Change, and their work to promote sustainable transport through organisation's pool bike scheme.
Individual campaigns and events were also praised, including our blood donations programme which was recognised as going "from strength to strength"; and our popular Lifestyle Checks which have generated a number of requests for further information and guidance from staff about health and lifestyle topics.
Commenting upon the award Angie Hamilton, Head of Wellbeing & People Engagement & Emma Kilpatrick Head of HR services said: 
"We are delighted that HES has been recognised with the gold award.
The Assessor highlighted a clear and continued commitment of HES in maintaining a high standard of health, safety & wellbeing support for staff.
"We will continue to build on this success, and enhance the benefits and opportunities for staff."
Congratulations to all involved.