Scotland's most famous modernist ruin, St Peter's Seminary in Cardross, is set to have its full story told for the very first time. The landmark new book will be released on Wednesday 30th November – 50 years on since the building first opened its doors in 1966.
Published by Historic Environment Scotland (HES) in partnership with the arts organisation NVA and The Glasgow School of Art, St Peter's, Cardross: Birth, Death and Renewal traces the history of one of Scotland's most celebrated and architecturally significant buildings. Featuring unpublished historical and contemporary images along with original plans, the publication charts the now ruinous structure's history from its origins in mid-twentieth century Catholic Church building to its revival in 2016 as the stage for NVA's award-winning Hinterland event.
Designed by Glasgow firm Gillespie, Kidd and Coia as a teaching college for priests, St Peter's only fulfilled its original role for 14 years and closed in 1980. As its uncompromising design gave way to prolonged construction and problematic upkeep, the Catholic Church reassessed the role of seminaries, resolving to embed trainee priests not in seclusion, but in communities. Although briefly repurposed as a drug rehabilitation centre, the building was soon abandoned to decay and vandalism.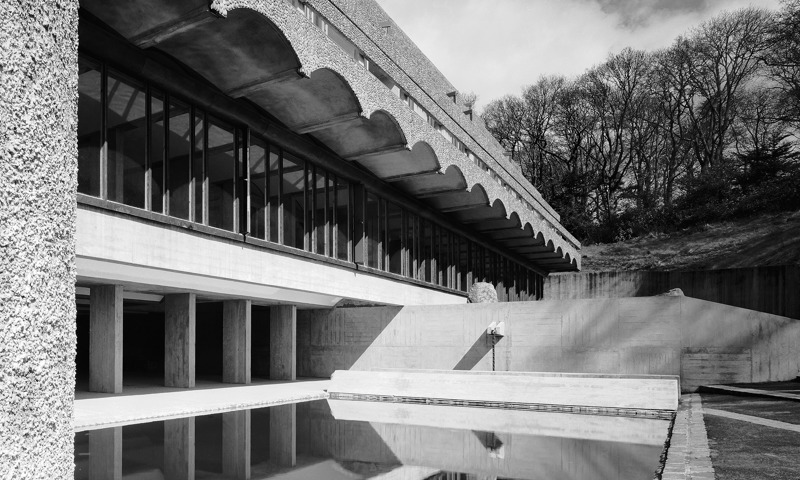 It has been called both Scotland's best and worst twentieth century building and still continues to captivate and intrigue audiences, architectural students and specialists alike. Considered one of Europe's most valued examples of modernist heritage, it was category A listed in 1992.
Author and Architectural Historian at Historic Environment Scotland, Diane Watters, first wrote about St Peter's in the mid-1990s. Watters' new volume of work combines the structure's past with the changes and developments the ruin has faced over the last two decades, telling its full story up to present date. She said: "This book traces the way in which religious and architectural change significantly impacted and shaped the story of St Peter's. But it also looks at how its demise triggered a transformation in its legacy, as a structure of regional and Scottish interest when new in the 1960s came to be an object of international attention and fascination as an iconic ruin of the new millennium.
"The publication of this book is especially timely. This year has demonstrated the building's future potential as a leading arts centre, marks its 50th anniversary, and falls within Scotland's Year of Innovation, Architecture and Design."
The book includes more than 200 images drawn from the collections of HES, The Glasgow School of Art, the Archdiocese of Glasgow and NVA – many never before published. It also features a 54-page image essay by NVA's Creative Director Angus Farquhar, recounting how the independent arts organisation came to play a key role in the renewal of St Peter's, and outlining his vision for the building's future as a national platform for public art, debate and knowledge exchange.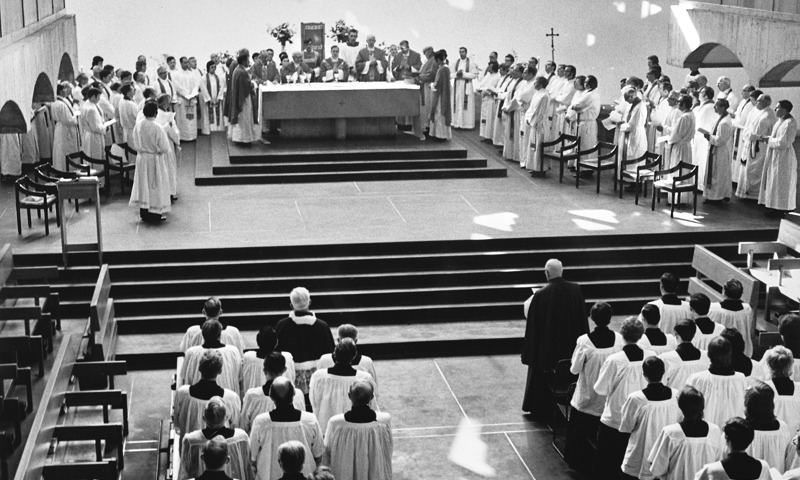 Angus Farquhar, Creative Director at NVA, added: "I am really pleased that Historic Environment Scotland have revisited Diane Watters' powerful account of the commissioning and life of St Peter's Seminary. Now her updates tell St Peter's full history to date and segue with NVA's unique arts driven regeneration. Documenting the fascinating story of the last ten years and the move towards a long sought for solution to a national architectural problem this book offers a comprehensive insight into St Peter's."
St Peter's, Cardross: Birth, Death and Renewal, published by Historic Environment Scotland in partnership with NVA and Glasgow School of Art, is priced at £30.00 and is available from the SCRAN online shop as well as from all major book stockists.
About the authors
Diane Watters is an Architectural Historian at Historic Environment Scotland and teaches at the University of Edinburgh. A specialist in 19th and 20th century architecture and conservation in Scotland, she has undertaken a succession of research based publications and is currently researching the history of Edinburgh's school architecture.
Angus Farquhar has been Creative Director of Glasgow based NVA – one of the UK's most noted independent public arts organisations – since its inception in 1992.
About NVA
NVA's mission is to make powerful public art that reaffirms people's connection to their built and natural heritage. The company has produced many unusual and dynamic interventions in extraordinary landscapes over the last 20 years – light, sound and collective movement have been incorporated into the mountains of Skye, city lighting festivals and international cultural events including the 2012 Olympics and the Tour de France – Grand Depart in Yorkshire in 2014. Our practice uses creative learning and environmental innovation, involving audiences in physically redefining urban and rural settings, revealing how places shape and are shaped by people.
Permanent works, which often regenerate broken landscapes, include the resuscitation of St Peter's Seminary and its surrounding woodland landscape. An innovative approach to heritage conservation will combine partial restoration, consolidation of the existing ruin and new design to bring the iconic building and historic landscape back into productive use as a national platform for public art and knowledge exchange.
Hinterland, NVA's inaugural event at St Peter's Seminary, launched Scotland's Festival of Architecture in March 2016 and was a key highlight in the Year of Innovation, Architecture and Design. The sell-out event subtly re-animated the skeletal structure with light installations, projection and a specially commissioned choral composition by composer Rory Boyle, recorded by the St Salvator's Chapel Choir of the University of St Andrews. The Hinterland film can be viewed at this link: https://vimeo.com/172397263
NVA is an acronym of 'nacionale vita activa', expressing the Ancient Greek ideal of a lively democracy, where actions and words shared among equals bring new thinking into the world.
About The Glasgow School of Art
The Glasgow School of Art (GSA) was founded in 1845 as one of the first Government Schools of Design, as a centre of creativity promoting good design for the manufacturing industries of Glasgow.  However, the School's lineage can be traced to 1753 when Robert Foulis established a school of art and design in Glasgow, which was described as the single most influential factor in the development of eighteenth-century Scottish Art
Today, The GSA is internationally recognised as one of Europe's leading university-level institutions for the visual creative disciplines. Our studio-based approach to research and teaching brings disciplines together to explore problems in new ways to find new innovative solutions. The studio creates the environment for inter-disciplinary working, peer learning, critical inquiry, experimentation and prototyping, helping to addressing many of the great challenges confronting society and contemporary business.
About Historic Environment Scotland (HES)
Year of Innovation, Architecture and Design 2016
2016 is the Year of Innovation, Architecture and Design (IAD). Through a series of exciting events and activity, the year will showcase Scotland's position as an "innovation nation", its outstanding built heritage, and its thriving, internationally acclaimed creative industries sector. This is a Scottish Government initiative being led by VisitScotland and supported by a variety of partners.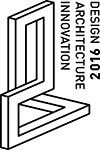 Follow Historic Environment Scotland
Twitter: @HistEnvScot | @welovehistory 
Facebook: @HistoricEnvScotland | @VisitHistoricScotland
For further information, please contact:
Grant Thomson
Historic Environment Scotland Media Office
Direct Line: 0131 668 8603
Mobile: 07580 702 611
grant.thomson@hes.scot