A new mobile app, enabling people across the world to explore one of Europe's finest chambered tombs, Maeshowe in Orkney, is now available to download.
This cutting edge technology, entitled Explore Maeshowe, allows audiences to virtually explore the historic site - a masterpiece of Neolithic design and construction and part of the Heart of Neolithic Orkney World Heritage Site - in high definition 3D.
Through the app - which is available on both iOS and Android formats - users can discover Norse graffiti from the 1100s and see how the entrance passage to the Maeshowe Tomb is perfectly aligned with the setting of the midwinter sun.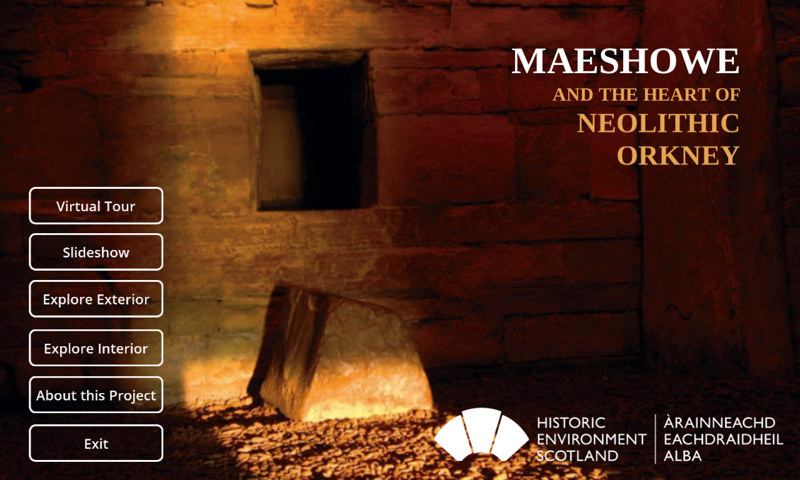 Developed using highly accurate laser scan data captured as part of the Scottish Ten Project, via a partnership between Historic Environment Scotland (HES) and experts in 3D visualisation at The Glasgow School of Art's School of Simulation and Visualisation (SimVis), the app also allows users to take part in an interactive 3D tour of the site, view an impressive photographic slideshow and learn more about Maeshowe's rich legacy.
Dr Lyn Wilson, Digital Documentation Manager at HES said: "The app is a fantastic way to share our cutting edge laser scan data and 3D models to provide virtual access to this wonderful site, which is something we as an organisation are increasingly doing as a key way of enabling more and more people and new audiences to engage with us, our sites and our collections.
"The app is also a great example of bringing together heritage and cutting edge technology to showcase such a unique site and give people a high quality, digital glimpse of the tomb from wherever they are in the world."
Dr Paul Chapman, Director of SimVis added: "SimVis is working at the cutting edge of 3D digital technologies harnessing their potential in education, heritage and commercial sectors. Explore Maeshowe is an example of how 3D visualisation can enable more people to access and interact with Britain's heritage learning more about one of the UK's most important Neolithic sites."  
A monumental chambered tomb, Maeshowe is the finest Neolithic building to survive in north-west Europe. Built around 5,000 years ago, it is an impressive burial monument, where people lived, worshipped, and honoured their dead. One of its most alluring features for visitors is how the entrance to the tomb is aligned with the setting of the midwinter sun, so that the light illuminates the tomb's interior.
Download Explore Maeshowe for Android
About Historic Environment Scotland (HES)
We are the lead public body charged with caring for, protecting and promoting the historic environment. We will lead on delivering Scotland's first strategy for the historic environment, Our Place in Time.
Historic Scotland is a sub brand of HES.
View our press pack and keep up to date by registering for media release email alerts. If you wish to unsubscribe, please contact us.
The Scottish Ten Project saw HES and The Glasgow School of Art with CyArk digitally document Scotland's as-then five world heritage sites and five international heritage sites. We are now using this data to develop interactive resources such as the Maeshowe app.
About Glasgow School of Art
The Glasgow School of Art (GSA) was founded in 1845 as one of the first Government Schools of Design, as a centre of creativity promoting good design for the manufacturing industries of Glasgow. Today, The GSA is internationally recognised as one of Europe's leading university-level institutions for the visual creative disciplines.
The School of Simulation and Visualisation (SimVis) currently specialises in postgraduate teaching and research.
SimVis is a partner in the CCDV (with Historic Environment Scotland) which has delivered the admired Scottish Ten Project and is working on 3D models of Scotland's most recent UNESO World Heritage site, the Forth Bridge.
Year of History, Heritage and Archaeology 2017
2017 is the Year of History, Heritage and Archaeology (HHA), a year that will celebrate Scotland's people, our distinct culture and traditions, our historic landscapes, attractions and icons as well as our hidden gems and amazing stories. From World Heritage Sites to ancient monuments, listed buildings to historic battlefields, cultural traditions to our myths, stories and legends, 2017 is the year to explore Scotland's fascinating past. This is a Scottish Government initiative being led by VisitScotland and a variety of partners.
Get involved on Twitter with #HHA2017

Follow Historic Environment Scotland
Twitter: @HistEnvScot | @welovehistory 
Facebook: @HistoricEnvScotland | @VisitHistoricScotland
For further information
Barry McPherson
Historic Environment Scotland Media Office
Direct Line: 0131 668 8097
Mobile: 07813 357722
barry.mcpherson@hes.scot