The Engine Shed is inviting people to come and find out what Scotland's new national building conservation centre has to offer as it opens its doors to the public for the first time on Monday 3 July.
Based at Forthside Way, Stirling, the new learning and visitor resource will serve as the national conservation hub, using world-leading innovation to bring Scotland's built heritage to life through technology and hands-on activities.
Open six days a week, from Monday to Saturday, the centrepiece of the free visitor experience is a large-scale map of Scotland compiled from hi-resolution satellite images. From this, additional information can be accessed using an iPad as an augmented reality device, providing people with the opportunity to explore Scotland's buildings, plus the chance to discover how the Engine Shed is digitally documenting Scotland's heritage.
To celebrate the opening, from Monday 3 July, visitors can enjoy a suite of activities and workshops, including joining a tour of the building to find out more about its purpose and what it will offer the public, getting creative by carving a masterpiece from soap, or signing up to a talk from Historic Environment Scotland's Head of Technical Education and Training to hear more about the building's development from former MOD munitions shed to pioneering learning hub.
Dorothy Hoskins, Technical Outreach and Education Manager at the Engine Shed, said: "We are absolutely delighted to open the doors and welcome the public into the Engine Shed. We have so much planned for the opening with lots of activities and workshops on offer throughout the summer.
"We really want people to come down and experience the Engine Shed first-hand and get involved in the different activities that are on and find out more about what will be coming up later in the year too."
People from across Scotland are invited to visit the Engine Shed to find out more about its summer programme of events designed to encourage a greater understanding of Scotland's historic buildings and traditional craft skills, as part of Scotland's Year of History, Heritage and Archaeology.
Every week during the summer, the Engine Shed will host different building-related themed activity sessions, talks and demonstrations. Workshops will include creating pieces inspired by Mackintosh's designs currently on temporary display at the Engine Shed, which were recovered from the fire that affected the Glasgow School of Art's Mackintosh building in 2014.
Dorothy continues: "Our summer programme is designed to inspire people and demonstrate the range of skills, materials and technologies that are used in preserving our traditional buildings across Scotland. The Engine Shed is an inclusive space where everyone can come along and discover more about our historic environment through workshops, exhibitions, events, tutorials and training. We hope the public will be really impressed with what we have done with the space and what will be on offer."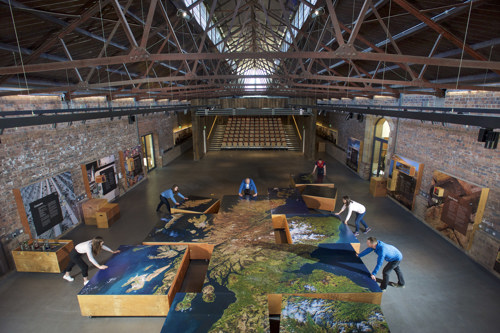 About Historic Environment Scotland (HES)
About the Engine Shed
At the very forefront of conservation, The Engine Shed will provide a central hub to engage the next generation with our historic environment and the value of protecting and preserving it, whilst helping to ensure a safe and sustainable future for our rich built heritage.
Due to open its doors on 3 July 2017, The Engine Shed will be the test lab for developing activities and resources which can then be rolled out for use across the country and will help to support and enable the work of partners across a range of sectors spanning heritage, construction, education and training and many other related fields.
The Engine Shed has received funding from Heritage Lottery Fund (HLF), Scottish Government's Young Scots Fund, European Regional Development Fund (ERDF) and the difference made up by Historic Environment Scotland.
The Engine Shed will house Historic Environment Scotland's Technical Outreach and Education, Conservation Science, and Digital Documentation teams, strengthening the link between research, education, and technology to increase an understanding of buildings and materials.
The development of the Engine Shed will create a network of conservation centres linking with Historic Environment Scotland's masonry training centres in Elgin and Forth Valley College and the applied conservation unit at South Gyle, Edinburgh.
Get involved on Twitter with #HHA2017

Follow Historic Environment Scotland
Twitter: @HistEnvScot | @welovehistory
Facebook: @HistoricEnvScotland | @VisitHistoricScotland
For further information
Oliver Howe
Historic Environment Scotland Media Office
Direct Line: 0131 668 8074
Mobile: 07842 498 772
oliver.howe@hes.scot / communications@hes.scot