Deputy First Minister and Cabinet Secretary for Education and Skills, John Swinney, today welcomed the announcement of ten new internship opportunities with Historic Environment Scotland (HES) as he toured the Engine Shed, Scotland's new national conservation centre in Stirling.
Each of the ten internships will last at least 12 months, with students based across Stirling, Edinburgh and Fort George. Opportunities are available in a wide variety of conservation areas, including climate change science, conservation science and technical aspects of traditional construction materials.
Mr Swinney said "The Engine Shed is a great achievement for Historic Environment Scotland in this, our Year of History, Heritage and Archaeology, and presents a huge opportunity for growth in skills across the built heritage sector.
"I very much welcome the creation of these internships which will ensure the skills required to look after our wonderful built heritage continue to thrive and am pleased to hear about the education outreach work being done by the centre.
This is a great chance to engage children and young people with Scotland's historic environment and inspire them to consider careers in the sector.
The Engine Shed, which received £3 million in funding support from the Scottish Government, serves as a base for HES' building conservation research and education teams, using world-leading innovation to bring Scotland's built heritage to life through technology and hands-on activities.
It was opened in July, welcoming more than 6,000 people in its first six weeks, and seeing children, young people and adults engage in activities relating to stone, stained glass and other traditional materials. The £11 million learning and visitor resource provides education support for learners from primary school to post-graduate level, and facilitates the sharing of HES' world class expertise with national and international partners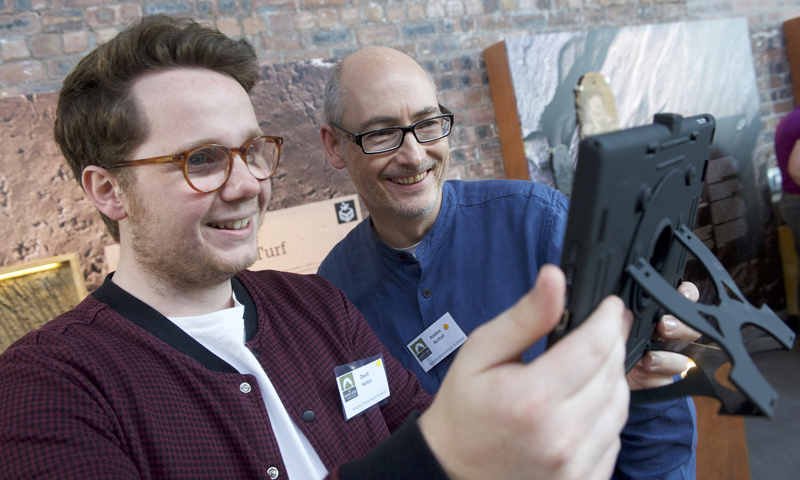 Historic Environment Scotland's Director of Conservation Professor David Mitchell said: "As a place for research and learning, we thought it was fitting this year to offer a range of various internships at the Engine Shed, where students can make use of the state-of-the-art resources and pioneering technology housed here.
Education is at the core of our internship programme and participants will be mentored by our staff to gain the most from the experience. They will have unique access to some of Scotland's most treasured places and specialist training at the Engine Shed in its first year of operation.
"We have a long tradition of providing internships in areas of building conservation. The support we get from our partners in facilitating these internships reflects the willingness of our sector to invest in the next generation.
These are valuable opportunities for education and learning for early career professionals and we have seen former interns move on to higher education, build successful careers or start their own businesses, which enhances capacity and expertise in the heritage sector.
As part of the internship programme each successful candidate will have an appointed mentor and host, who will develop a customized learning and training plan for them, which will include access to relevant training courses at the Engine Shed.
Former Climate Change intern David Harkin (pictured above) said: "My internship with HES allowed me to develop my interest in considering the impacts of a changing climate on Scotland's historic places. The learning experience and my personal development has allowed me to pursue this specialism as a career."
People who are interested in applying for an internship should check the HES Recruitment Portal for full details. All opportunities close on 8 November 2017.
Should you wish to discuss the Internship opportunities, please contact Steve Townsend, Technical Conservation Skills Manager, 01786 431300 stephen.townsend@hes.scot.
About Historic Environment Scotland (HES)
Year of History, Heritage and Archaeology 2017
2017 is the Year of History, Heritage and Archaeology (HHA), a year that will celebrate Scotland's people, our distinct culture and traditions, our historic landscapes, attractions and icons as well as our hidden gems and amazing stories. From World Heritage Sites to ancient monuments, listed buildings to historic battlefields, cultural traditions to our myths, stories and legends, 2017 is the year to explore Scotland's fascinating past. This is a Scottish Government initiative being led by VisitScotland and a variety of partners.
Get involved on Twitter with #HHA2017

Follow Historic Environment Scotland
Twitter: @HistEnvScot | @welovehistory 
Facebook: @HistoricEnvScotland | @VisitHistoricScotland
For further information, please contact:
Seumas Skinner
Historic Environment Scotland Media Office
Direct Line: 0131 668 8714
Mobile: 07776 243 809
seumas.skinner@hes.scot