Historic Environment Scotland today announced that African American author and freedom fighter Frederick Douglass is the first significant historic figure to be celebrated as part of its 2018 Commemorative Plaque Scheme.
Coinciding with Black History Month and the 200th anniversary of his birth, Frederick Douglass is the first black person recognised - and the 56th plaque awarded - under the scheme since it began in 2012.
The plaque will be unveiled in a ceremony in November and affixed to a building at 33 Gilmore Place in Edinburgh. It was at this address that Douglass once lived as Scotland's anti-slavery agent; organising many of his anti-slavery campaigns in Scotland and corresponding with black and white abolitionists.
A new exhibition focussing on Douglass and his family's involvement with transatlantic abolitionism and social justice campaigns, and on African American freedom fighters from the United States who came to Scotland, was launched last week at the National Library of Scotland. 'Strike for Freedom: Slavery, Civil War and the Frederick Douglass Family in the Walter O and Linda Evans Collection' is on display now to mark the 200th anniversary of Douglass' birth.
Born into southern slavery in Maryland, USA in 1818, Frederick Douglass survived the traumas and tragedies of life as an enslaved individual, bearing witness to his family being bought and sold on the auction block. In 1838, at barely 20 years of age, he risked life and limb to make his escape from US chattel slavery. Douglass went on to become a world-renowned author, orator, philosopher, activist, statesman and freedom fighter as he worked alongside his family members not only to end slavery, but support all campaigns for human rights and social justice.
In 1845, on the run as a "fugitive slave" after publishing his first autobiography, Narrative of the Life of Frederick Douglass: An American Slave - in which he named and shamed his white slaveholders - he undertook a two year transatlantic sojourn to tell his story to audiences in Scotland, Ireland, Wales and England.
In Scotland, Douglass visited numerous cities and towns including Glasgow, Arbroath, Ayr, Dundee, Falkirk, Fenwick, Greenock, Hawick, Kirkcaldy, Montrose, Paisley and Perth to inspire anti-slavery activism among his audiences by telling the "story of the slave."
Douglass played a leading role in the campaign against the Free Church of Scotland and its acceptance of donations from white US slaveholders, a protest movement he spearheaded with the slogan, "send back the blood-stained money!" As Douglass recalled, while he and his advocates may have failed in making them send back the money, they succeeded in enlightening the people of Scotland on the subject of American slavery.
Thomas Knowles, Head of Grants at HES, said:
"The Frederick Douglass plaque is a worthy addition to our list of historic figures commemorated over the last six years. His story allows us to reflect on one of the darker chapters of our history, so we can recognise and learn about Scotland's role in the 19th Century international slave trade.
"We recognise that traditional methods of commemoration have not always reflected the diversity of Scotland's population, and have often overlooked the contribution of minority groups. We hope that this award, which sees the first black person to be honoured through the Commemorative Plaque Scheme, will be a step forward to redress this imbalance."
Celeste-Marie Bernier, a professor at Edinburgh University, has researched the life and works of Frederick Douglass and his family for two decades. Nominating Frederick Douglass for the plaque in recognition of his world-renowned fame as an inspirational author and activist, Professor Bernier said:
"Born into slavery as Frederick Augustus Washington Bailey, he was reborn in freedom as Frederick Douglass, taking his new surname from James Douglas in Sir Walter Scott's Lady of the Lake.
"All his life, Frederick Douglass saw in James Douglas - one of the chief commanders during the Scottish Wars of Independence - a kindred spirit who was equally committed to the overthrow of tyranny, despotism and oppression. He dedicated his life to the conviction: "Right is of no sex, truth is of no color - God is the Father of Us All, and All We are Brethren."
HES is encouraging more inclusive nominations under future rounds of its Commemorative Plaque Scheme, to recognise people from all walks of life who have had an impact on Scotland's history. Past nominees for the scheme have included artists, scientists, inventors, philanthropists, actors, engineers, explorers, suffragettes, poets, politicians, writers and architects.
The remaining 14 successful plaque nominations under the 2018 Commemorative Plaque Scheme will be announced over the coming months.
Notes to editors
HES' Commemorative Plaque Scheme recognises people who have gained local, national and international recognition for their impact and accomplishments connected to Scotland by erecting plaques on the buildings where they lived or worked.
Anyone whose life and achievements have made a significant difference to Scotland and its people can be considered for the scheme. The only criteria HES insists upon is that the person nominated has been deceased for at least 20 years, they must have been born more than 100 years ago and the building where the plaque is to be erected has a close connection to the nominee.
Commemorating the 200 year anniversary of his birth, in 2018 Celeste-Marie Bernier is leading an international project on Frederick Douglass and his family titled, "Our Bondage and Our Freedom" funded by the UK Arts and Humanities Research Council. As part of this UK-US project, she is guest curating a number of exhibitions and authoring a series of books, as well as undertaking a speaking tour in Scotland. Celeste-Marie Bernier and her colleague Andrew Taylor's recent book, If I Survive: Frederick Douglass and Family in the Walter O. Evans Collection, has just been published by Edinburgh University Press to coincide with the opening of the 'Strike for Freedom' exhibit.
Strike for Freedom is on display until 19th February 2019 at the National Library of Scotland. A world first, this Treasures Display will exhibit the Douglass family's letters, speeches and photographs from the Walter O and Linda Evans Collection. The display shows that Frederick Douglass was not alone in his journey to Scotland, as he was joined by a number of African American freedom-fighters who travelled to Scotland in their campaigns to abolish slavery, segregation and lynch law.
About Historic Environment Scotland (HES)
We are the lead public body charged with caring for, protecting and promoting the historic environment. We will lead on delivering Scotland's first strategy for the historic environment, Our Place in Time.
Historic Scotland, Scran, Canmore, The National Collection of Aerial Photography (NCAP), The Engine Shed, Stirling Castle and Edinburgh Castle are sub-brands of HES.
View our press pack and keep up to date by registering for media release email alerts. If you wish to unsubscribe, please contact us.
Year of Young People 2018
The Year of Young People (YoYP 2018) will inspire Scotland through its young people aged 8 to 26, celebrating their achievements, valuing their contributions to communities and creating new opportunities for them to shine locally, nationally and globally. Over 200 young people throughout Scotland will become #YOYP2018 Ambassadors, ensuring their communities know about local opportunities to celebrate young people.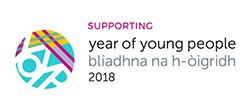 Follow Historic Environment Scotland
Twitter: @HistEnvScot | @welovehistory
Facebook: @HistoricEnvScotland | @VisitHistoricScotland
Instagram: @HistEnvScot | @historicscotland
For further information, please contact:
Blake Hardy
Historic Environment Scotland Media Office
Direct line: 0131 668 8603
Mobile: 07776 226 414
communications@hes.scot