Historic Environment Scotland (HES) has been awarded the World Wildlife Fund (WWF) Scotland Public Body Champion Award for the third year in a row in recognition of its work to tackle climate change, it was announced today (Friday 24 March).
The award was presented prior to the WWF's annual 'Earth Hour' initiative, which takes place tomorrow (Saturday 25 March). This event sees people across the globe switch off their lights for an hour between 8.30pm – 9.30 pm, raising awareness of the need to lower carbon emissions.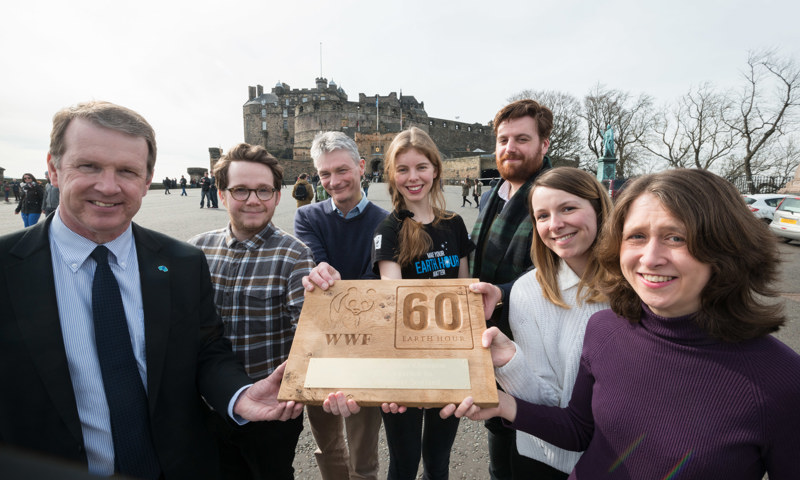 HES is working with partners across Scotland to switch off the lights at 15 historic castles and abbeys in recognition of Earth Hour tomorrow. The organisation's Climate Change team have also been working hard to create real change across the organisation, cutting emissions and creating a greener workplace by supporting events like Pass it On Week and The Scottish Workplace Journey Challenge as well as carrying out research into the impact of climate change on historic buildings in an effort to combat it.
WWF Scotland Director, Lang Banks, said:
"I'm delighted to announce Historic Environment Scotland as our Public Body Champion for all their efforts in support of our annual Earth Hour initiative. This award clearly demonstrates the commitment of the organisation to tackling climate change and protecting our brilliant planet. We look forward to working with our newly crowned Champions for Earth Hour 2017."
The historic sites switching off the lights in 2017 are:
Arbroath Abbey
Castle Campbell
Clickimin Broch
Dundonald Castle
Dunfermline Abbey and Palace
Dunkeld Cathedral
Edinburgh Castle
Glasgow Cathedral
Jedburgh Abbey
Kelso Abbey
Linlithgow Palace
Melrose Abbey
Stirling Castle
Sueno's Stone
Urquhart Castle