Historic Environment Scotland's work-in-progress building conservation hub, the Engine Shed, will once again be taking part in Stirling's Doors Open Days and joining hundreds of other buildings across the country as they open their doors to the public on weekends throughout September.
This will be the third year that the Engine Shed has taken part in Stirling's Doors Open Days and it promises to be bigger and better than previous years with a second full day of activities – a new addition for 2016's Doors Open Days.
Over the course of the weekend, on Saturday 10th and Sunday 11th September, visitors will be able to explore what the Engine Shed will offer ahead of its opening next year, with activities ranging from hands-on stonemasonry and creative workshops to trying out virtual reality headsets and investigating the science behind building materials.
Dorothy Hoskins, Technical Outreach and Education Manager at Historic Environment Scotland, said: "We are really looking forward to this year's Stirling's Doors Open Days. We wanted to showcase all the elements and expertise Historic Environment Scotland and our partners have to offer so there are lots of different and interactive activities that people can take part in.
"It's a great opportunity for people to come along to see and hear more about the exciting developments at the Engine Shed and talk to our specialists, as well as discovering more about Scotland's built heritage and its conservation. We hope to build on the fantastic success of our previous Doors Open Days events and look forward to welcoming and engaging even more people with the Engine Shed and our work. It promises to make for a great weekend-long event."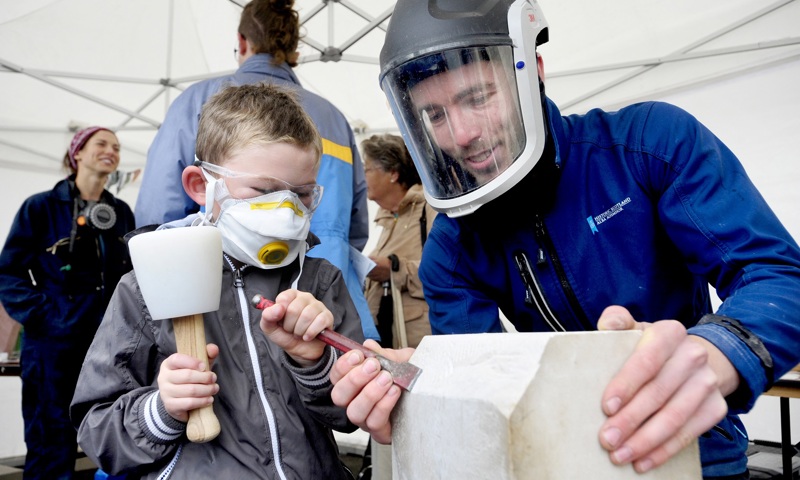 The two-day event will allow visitors to gain a real insight into historic buildings and the techniques and skills used to ensure their safeguarding. Different activities and events will be taking place, from centuries-old craft demonstrations to the use of cutting-edge technology, all providing a taste of the Engine Shed ahead of its opening, next year. Activities include:
Visitors can try see first-hand craft skills such as stonemasonry, mud wall construction and painting.
Virtual reality headsets will allow visitors to travel to Mount Rushmore in America, Rani Ki Vav in India and sites across Scotland whilst discovering more about this cutting-edge technology and its role in conservation.
The popular hard hat tours of the Engine Shed site will be returning, offering visitors a behind the scenes experience. Visitors can sign-up in advance online as well as on the day.
Creative hands-on craft sessions including soap carving and badge making will be taking place along with Lego, model building and sketching workshops.
Experts from Historic Environment Scotland and partner organisations will be on hand to offer advice, including how to care for and maintain your property.
There will also be the chance to find out more about apprenticeships and career opportunities within the traditional building conservation sector.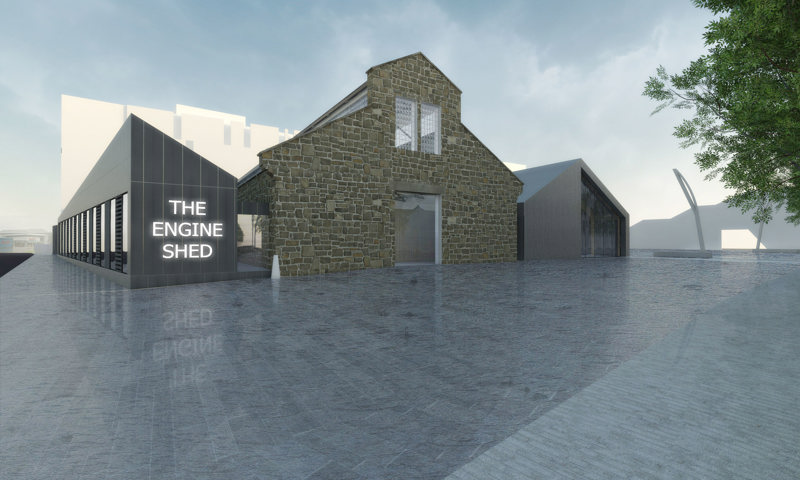 When it opens in spring 2017, the Engine Shed will create and deliver education resources and training on traditional buildings skills and materials for those in the industry as well as a fun and inspiring space for schools, local people and visitors to explore their built heritage through activities, exhibitions and a jam-packed events programme. 
Stirling Doors Open Days gives the public the opportunity to explore some of Stirling's most iconic and sustainable buildings which are often closed to the public.  The Engine Shed is one of 28 buildings in Stirling and the surrounding areas taking part.
Engine Shed Doors Open Days takes place from 10am-4pm on Saturday 10th and Sunday 11th September. This event is free.
About Historic Environment Scotland (HES)
As of the 1st October 2015, Historic Scotland and RCAHMS came together to form a new lead public body charged with caring for, protecting and promoting the historic environment. The new body Historic Environment Scotland (HES) will lead on delivering Scotland's first strategy for the historic environment, Our Place in Time.
Historic Scotland is a sub brand of HES.
View our press pack and keep up to date by registering for media release email alerts. If you wish to unsubscribe, please contact us.
Year of Innovation, Architecture and Design 2016
2016 is the Year of Innovation, Architecture and Design (IAD). Through a series of exciting events and activity, the year will showcase Scotland's position as an "innovation nation", its outstanding built heritage, and its thriving, internationally acclaimed creative industries sector. This is a Scottish Government initiative being led by VisitScotland and supported by a variety of partners.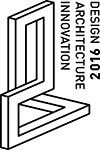 Follow Historic Environment Scotland
Twitter: @HistEnvScot | @welovehistory 
Facebook: @HistoricEnvScotland | @VisitHistoricScotland
For further information, please contact:
Grant Thomson 
Historic Environment Scotland Media Office
Direct Line: 0131 668 8603
Mobile: 07580 702 611
grant.thomson@hes.scot