Celebrating five years of community heritage projects, Past Forward – Stories of Urban Scotland takes you on a journey around the nation, discovering some of the best kept secrets in our towns and cities, as well as some familiar sites seen through fresh eyes.
From traversing the heights of St John's Tower in Ayr, to an augmented reality model of Arbroath Abbey in its heyday, Past Forward shares the work of more than 60 community groups from around the country who have engaged with the heritage that matters to them.
The exhibition showcases the work facilitated by Scotland's Urban Past (SUP), an HES community engagement project, supported by the National Lottery Heritage Fund. By sharing skills in recording buildings and capturing memories, SUP has enabled local groups of all ages to collect the histories that matter to them.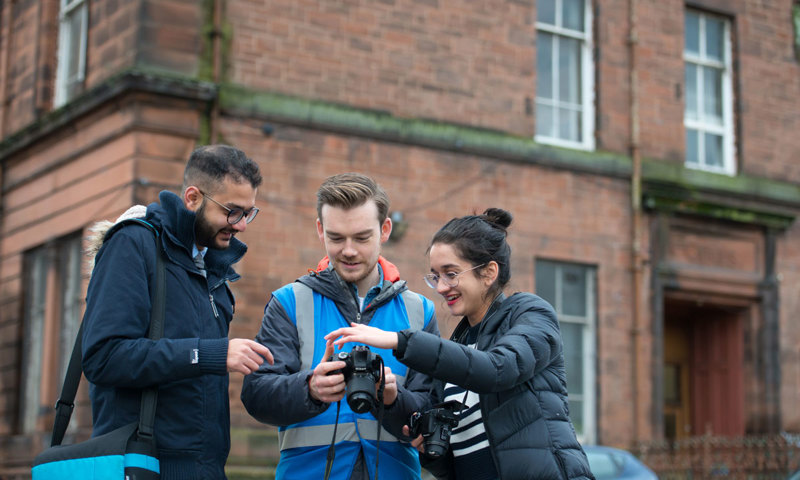 Community groups have delved in to everything from bringing to life a community garden amidst the ruins of a long-gone castle in Granton, creating postcards and bus tours of Glasgow to celebrate the Down's Syndrome World Congress, adding the first ever skate park to the National Record of the Historic Environment, and discovering rare surviving Second World War remains around Lerwick.
These projects are showcased through state of the art virtual and augmented reality, film, photos taken by the public, community maps and original artwork.
SUP Project Manager Chiara Ronchini said: "Over the past five years we have travelled the length and breadth of the country, working with schools and adult groups from all walks of life to help bring alive the history they find in their neighbourhoods.
Past Forward is bringing all of their experiences together, celebrating what they've unearthed and what they've achieved in discovering their past."
Deputy Director of the West of Scotland Regional Equality Council (WSREC) Ghzala Khan worked with SUP to record the stories of Glasgow's diverse communities and photograph their hub, the Napiershall Street Centre.
She said: "Everyone has a story to tell, and now we have the ability to share ours.
Being part of this project made recording history fun, we learnt a florescent pink sock is just as useful on a microphone in the wind as it is on a foot, and we were able to share the story of a building we love.
"This exhibition is a chance for everyone to be part of this project and see what's been created over the past five years."
Past Forward will tour to four venues and will play host to a series of workshops throughout its run. These will share skills in creating community maps, using Minecraft in heritage education, interpreting aerial photography, surveying and recording, research skills, book readings and creative writing workshops.
Past Forward opens on 4 May and runs until the 26 August:
4-31 May: Summerhall, Edinburgh
4-19 June: Creative Academy, Inverness
29 June-27 July: Scottish Storytelling Centre, Edinburgh
2-26 August: South Block, Glasgow
About Scotland's Urban Past (SUP)
SUP is a five-year nationwide engagement project led by Historic Environment Scotland, and supported by the National Lottery Heritage Fund.
The project provides free training, support and resources to people of all ages to help them discover and share the fascinating stories of Scotland's towns and cities.
SUP uses a wide range of resources to help groups realise their projects - be it recording the places that matter to them, or celebrating their heritage through creative activity.
For more information visit their website
About The National Lottery Heritage Fund (NLHF)
Using money raised by the National Lottery, the NLHF inspires, leads and resources the UK's heritage to create positive and lasting change for people and communities - now and in the future.
For more information, visit their website - and follow @HeritageFundSCO on Twitter, Facebook and Instagram - and use #NationalLotteryHeritageFund
About Historic Environment Scotland (HES)
We are the lead public body charged with caring for, protecting and promoting the historic environment. We will lead on delivering Scotland's first strategy for the historic environment,

 

Our Place in Time.
Historic Scotland, Scran, Canmore, The National Collection of Aerial Photography (NCAP), The Engine Shed, Stirling Castle and Edinburgh Castle are sub-brands of HES.
View our

 

press pack

 

and keep up to date by

 

registering for media release email alerts. If you wish to unsubscribe, please

 

contact us.
Follow Historic Environment Scotland
Twitter: @HistEnvScot | @welovehistory
Facebook: @HistoricEnvScotland | @VisitHistoricScotland
Instagram: @HistEnvScot | @historicscotland
For further information, please contact:
Emma Brown
Scotland's Urban Past
0131 651 6736
communications@hes.scot