You are cordially invited to Stirling Castle this weekend (Sunday 6th of December) to mark the end of Scotland's Year of Food and Drink with A Midwinter Feast. As a year of celebrating locally sourced produce draws to a close, Mary of Guise and members of her court will be on hand to show guests what dishes might have made it to the Queen's banqueting table at Christmas nearly 500 years ago.
From 12.30pm – 3.30pm on Sunday 6th of December, Stirling Castle visitors can experience the traditions of a royal Renaissance Christmas with music, dancing and revelry in the Great Hall. The busy Renaissance court will be brought to life by costumed performers portraying the Queen, her courtiers, noble guests and servants. Find out whether the Earl of Arran and the English ambassador Sir Ralph Saddler were good at buying gifts, discover the dishes they might have enjoyed at a Christmas feast, and meet the Court Jester who will be on hand to teach the art of tomfoolery in Fool School.
Meanwhile in the Chapel Royal, visitors can find ideas for their present day festive celebrations at the Christmas Market. A range of stalls will be set up giving guests the opportunity to try delicious food samples, and gain unique gift inspiration from local businesses who stock the Clan and Craft Gift shop on the castle esplanade.
Liz Grant, Executive Manager of Stirling Castle, said: "Mary of Guise is a fascinating figure from the castle's history, and we've spent much of 2015 telling visitors about her. We've unveiled the last of seven hand woven tapestries in her inner chamber, hosted an art exhibition inspired by her, and created an exhibition all about her life and times which has been enjoyed by thousands of visitors. This weekend it seems only fitting that she'll be celebrated with pomp and ceremony at A Midwinter Feast."
View a full list of our events
Event programme
Great Hall
Join Mary of Guise and her royal court as they celebrate the festive season. Experience the traditions of a Renaissance royal Christmas and enjoy music, dancing and revelry throughout the afternoon.
12.30 Festive Fun at the Royal Court
You are cordially invited to join Mary of Guise as she prepares to celebrate the festive season at Stirling Castle.
13.00 Royal Revelry
Experience the some of the music and songs that would have entertained the royal court while enjoying the exclusive company of the Queen's courtiers for instruction in the noble art of dancing.
13.30 Fool School
Join the Court Jester for some merriment and tomfoolery and learn to act the fool. Have you got what it takes to make the Queen laugh?
14.00 Royal Revelry
14.30 The Giving of Gifts
Join the Queen as she is visited by the Earl of Arran and the English ambassador Sir Ralph Saddler. Does Saddler come bearing fine gifts, or something more?
15.00 A Feast Fit For A Queen
Join the royal court as they take their place at the table. Discover more about etiquette and the fine dishes that might have been enjoyed at a Christmas feast.
On throughout the day
Wander through the stalls in the Chapel Royal, sampling delicious foods and maybe even buying some Christmas gifts.
Help prepare a banquet for the Queen in the Chapel Royal by drawing and colouring your own fantastic plate of food to add to the table.
Drop in to the Great Hall and find the cooks hard at work preparing for the royal feast.
Visit our new Clan and Christmas shop on the castle esplanade and discover a winter wonderland brimming with gorgeous gifts and fine food.
About Historic Environment Scotland (HES)
As of the 1st October 2015, Historic Scotland and RCAHMS came together to form a new lead public body charged with caring for, protecting and promoting the historic environment. The new body Historic Environment Scotland (HES) will lead on delivering Scotland's first strategy for the historic environment, Our Place in Time.
Historic Scotland is a sub brand of HES.
View our press pack and keep up to date by registering for media release email alerts. If you wish to unsubscribe, please contact us.
Year of Food and Drink 2015
2015 is the Year of Food and Drink, a celebration of Scotland's natural larder and the role that food and drink plays in shaping our economic success. Scotland generates over £2.5m per day through food and drink tourism. A series of themed months will create an appetite for key areas of Scotland's food and drink industries – from seafood and whisky to berries and high-quality meat.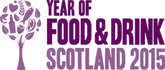 Follow Historic Environment Scotland
Twitter: @HistEnvScot | @welovehistory
Facebook: @HistoricEnvScotland | @VisitHistoricScotland
For further information
Ali George
Historic Environment Scotland Media Office
Direct line: 0131 668 8714
Mobile: 07583 018 790
communications@hes.scot