Culture Secretary Fiona Hyslop today confirmed a £6.6 million capital boost to support investment in conservation work, repairs and visitor facilities at several of Scotland's iconic heritage sites and monuments. 
The announcement follows the publication today of the most comprehensive conservation assessment ever undertaken on the properties in care of Scottish Ministers.
Commissioned by Ms Hyslop, the study provides for the first time, a comprehensive picture of the condition of more than 300 properties managed by Historic Environment Scotland on behalf of Ministers, and sets out the work required to address the impacts of deterioration and climate change. 
The report estimates conservation and repair work to the value of £65 million is required over ten years to restore and protect heritage sites for future generations. The additional funding announced today will enable conservation work to start at priority sites including Doune, Stirling and Edinburgh Castles during 2017 – the Year of History, Heritage and Archaeology.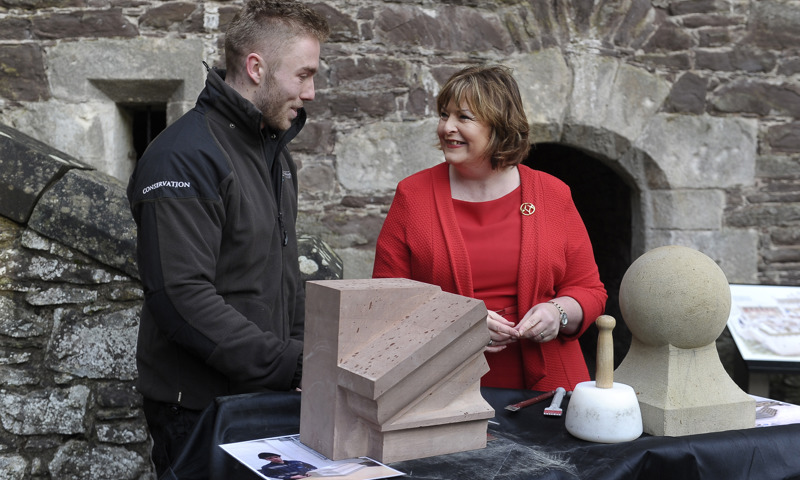 During a visit to Doune Castle near Stirling, Culture Secretary Fiona Hyslop said:
From Doune Castle

 

to Skara Brae, these iconic buildings and monuments represent more than 6,000 years of Scottish history and include a number of internationally significant sites that attract thousands of visitors every year.
"But by their nature they are often difficult to care for and require specialist expertise to repair. Adding to this challenge, it is well understood that climate change is speeding up the natural process of decay at heritage sites across the world.  "Historic Environment Scotland's new conservation study gives us a detailed understanding of the impact on our own heritage sites and tells us what is required to protect and preserve them for the future.
"The funding I have announced today underlines the Scottish Government's commitment to protecting and promoting our rich history and heritage and will enable conservation work to begin at several of our treasured heritage sites."
Dr David Mitchell, Director of Conservation at Historic Environment Scotland, said:
This report is a milestone for Historic Environment Scotland a year on from the merger between Historic Scotland and The Royal Commission on the Ancient and Historical Monuments of Scotland. 
"It is a significant piece of work, unprecedented for this estate that will provide a basis for investment decisions over the next decade and determine how we will manage over 300 of Scotland's most cherished places and associated collections for future generations."
Background
The £6.6 million announced today includes £2 million from the Capital Acceleration Programme announced by the First Minister as part of the Programme for Government in August 2016, and an additional £4.6 million capital funding allocated to Historic Environment Scotland for properties in care in the 2017-18 draft Scottish Budget published in December 2016.
Historic Environment Scotland's conservation report is available to download for free online.  
Historic Environment Scotland undertakes a substantial programme of conservation work on properties each year, undertaken by its own skilled staff. In addition HES spends around £3 million per annum with external contractors in support of its conservation work.
The Scottish Government will provide £45.5 million grant in aid for Historic Environment Scotland in 2017-18. Together with internally generated income this will allow for an increase in the level of investment for HES Properties in Care in 2017-18.
A report released by UNESCO in June 2016 highlighted 31 natural and cultural world heritage sites including the Statue of Liberty, the Galapagos Islands and Ouadi Qadisha (The Holy Valley) which were significantly at risk of the effects of climate change. Download the report  
History and heritage is a key motivator for visits to Scotland and an important part of the visitor experience with 32% of visitors citing 'history and culture' as a key motivator for their trip – second only to 'The Scenery and Landscape' (49%) - The Visitor Survey, 2015.
The Year of History, Heritage and Archaeology is a Scottish Government initiative led by VisitScotland and supported by a variety of partners. Throughout 2017 people from Scotland and around the world will be encouraged to delve into the past and discover Scotland's fascinating stories through a variety of activities to boost tourism. For more information visit www.visitscotland.com/HHA2017
About Historic Environment Scotland (HES)
Year of History, Heritage and Archaeology 2017
2017 is the Year of History, Heritage and Archaeology (HHA), a year that will celebrate Scotland's people, our distinct culture and traditions, our historic landscapes, attractions and icons as well as our hidden gems and amazing stories. From World Heritage Sites to ancient monuments, listed buildings to historic battlefields, cultural traditions to our myths, stories and legends, 2017 is the year to explore Scotland's fascinating past. This is a Scottish Government initiative being led by VisitScotland and a variety of partners.
Get involved on Twitter with #HHA2017

Follow Historic Environment Scotland
Twitter: @HistEnvScot | @welovehistory 
Facebook: @HistoricEnvScotland | @VisitHistoricScotland
For further information, please contact:
Alan Bannon
Historic Environment Scotland Media Office
Direct Line: 0131 668 8588
Mobile: 07854 366 805
alan.bannon@hes.scot