Seven communities across Scotland will benefit from the latest round of Conservation Area Regeneration Scheme (CARS) funding announced today. Projects in Rothesay, Penicuik, Union Street in Aberdeen, Cockenzie, Jedburgh, Maybole and Dunoon will receive a combined £6.2m to help them regenerate and attract further investment in the future.
The investment was outlined by Alex Paterson, Chief Executive of Historic Environment Scotland (HES), as he visited Falkirk CARS, which is scheduled for completion in 2018.
This is the seventh round of CARS funding, with £42.2 million having been invested by HES (and formerly Historic Scotland) on behalf of the Scottish Government since the first grants were awarded in 2007.
Speaking in Falkirk, HES's biggest CARS funding award to date at £1.6m, Mr Paterson noted that the progress of the joint Falkirk Townscape Heritage Initiative/ CARS has been transformative in the town.
He said:
In Scotland's year of History, Heritage and Archaeology we're celebrating all the different elements which make up our rich and diverse historic environment.
"Preserving the built heritage of our town centres is a hugely important part of this, because investment in our historic environment is key to supporting improved quality of life for many people across Scotland, and it has been great to see this in action today in Falkirk. The council's aim has been to create a high quality urban environment where people will want to spend their time and money, and the progress they've made to date is fantastic.
"It's my pleasure to announce Round 7 today, as this funding will enable seven more communities up and down the country to breathe new life into their historic town and city centres, encouraging further investment, creating new employment opportunities, and boosting the local tourism industry."
Councillor Dennis Goldie, spokesperson for Economic Development at Falkirk Council said: "The funding received from Historic Environment Scotland has been a critical component of the joint CARS-THI initiative which is currently running in Falkirk Town Centre.
The restoration of the Steeple, a real local treasure for many people, is nearing completion thanks to nearly £500k spent to conserve this iconic local landmark for the future.
"A great many property owners have also benefited from upgrades, improvements and restoration works to their homes and businesses, with more works still to be carried out."
The aim of the Falkirk CARS has been to improve the physical appearance of the Town Centre and enhance the things that make it special and unique. This includes the reinstatement of traditional shop fronts, roof repairs to historic buildings and major repair and restoration work to the exterior of the Falkirk Steeple including stone and joinery repairs, timber preservation, and repairs to the clock faces. The project has also included traditional skills workshops and heritage engagement exhibitions.
The CARS funding programme specifically targets conservation areas with social and economic disadvantages that make it difficult to attract investment in sustainable regeneration. The scheme assists these areas through channelling funding towards opportunities to enhance sustainable economic growth and help support projects that develop an area's sense of place.
The scheme is open to Local and National Park Authorities, community groups and other third sector organisations experienced in delivering multi-funded projects. Funding can be utilised for a number of purposes from the repair of priority properties and small grants to homeowners and retailers, to providing traditional craft training opportunities.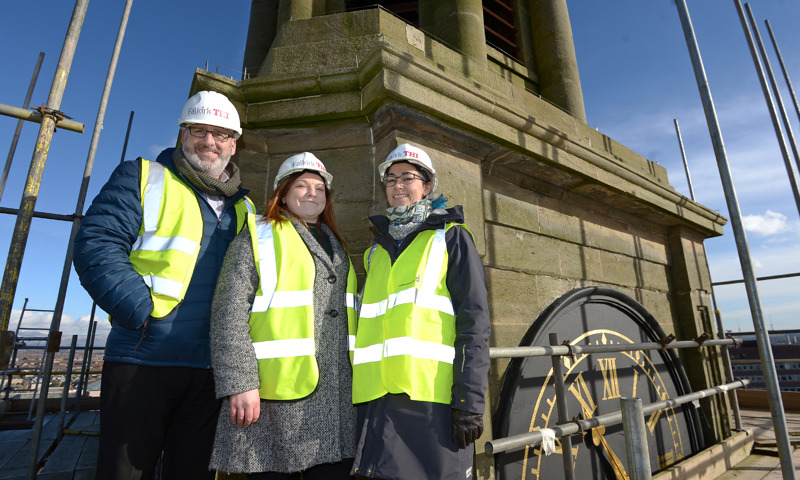 Full List of Recipients
Argyll and Bute Council - £500,000 for Rothesay Town Centre CARS
The proposed scheme builds on the successes of the first THI/CARS in Rothesay, with priority projects chosen due to their prominence on the seafront and poor condition, closely located to one another to ensure as big a visual impact as possible. In addition to building repairs, a complimentary project (not CARS funded) will be delivered as part of the wider TH, and a number of initiatives delivered to support and capitalise on the creative industries that are plentiful on Bute.
Midlothian Council - £725,127 for Penicuik CARS
This is an indicative funding offer for a CARS to start in 2018 with a firm funding offer dependant on a successful Stage 2 TH application to the HLF.
As Penicuik has expanded over the years with new housing developments on the outskirts, footfall to the town centre has decreased. To reverse this trend, the proposed scheme aims to improve the historic fabric and amenities of the town centre to make it a more attractive destination to visit, shop and spend time in.
Aberdeen City Council - £1,177,104 for Union Street CARS
The proposed scheme aims to reverse the decline and improve the quality of the built environment in Union Street and form part of a multi-layered approach to the regeneration of Aberdeen city centre as part of the City Centre Masterplan.
East Lothian Council – £600,290 for Cockenzie CARS
The proposed scheme is focussed on the improvement of the Harbour and High Street, making it a more appealing place to visit and spend time.
Scottish Borders Council - £866,500 for Jedburgh CARS
The proposed scheme aims to make Jedburgh a more attractive town to visit as the 'Historic Gateway to Scotland' and to build on their heritage and local attractions including Jedburgh Abbey and a proposed new distillery to the South. By improving the appearance of the town centre through CARS funding investment, the hope is that visitors and locals will be more inclined to spend time and money in it and this would in turn reverse the declining footfall.
Maybole Community Council/South Ayrshire Council - £1,290,000 for Maybole CARS
This is an indicative funding offer for a CARS to start in 2019 with a firm funding offer dependant on a successful Stage 2 Townscape Heritage application to the HLF.
With a bypass proposed for Maybole in 2018 to tackle the issue of its High Street being the main access route for lorries travelling to and from the ferry in Stranraer, the local community are taking the opportunity to attract funding to make the town centre a more attractive place to visit, live and spend time in. Although the local Community Council submitted the application, South Ayrshire Council have agreed that they would take on the delivery phase of the TH/CARS.
Argyll and Bute Council - £1,002,348 for Dunoon CARS
The proposed scheme aims to improve the appeal of Dunoon and compliments other projects that have been completed or are ongoing including the Queens Hall and the HES BRG funded Burgh Halls.
About Historic Environment Scotland (HES)
Year of History, Heritage and Archaeology 2017
2017 is the Year of History, Heritage and Archaeology (HHA), a year that will celebrate Scotland's people, our distinct culture and traditions, our historic landscapes, attractions and icons as well as our hidden gems and amazing stories. From World Heritage Sites to ancient monuments, listed buildings to historic battlefields, cultural traditions to our myths, stories and legends, 2017 is the year to explore Scotland's fascinating past. This is a Scottish Government initiative being led by VisitScotland and a variety of partners.
Get involved on Twitter with #HHA2017

Follow Historic Environment Scotland
Twitter: @HistEnvScot | @welovehistory 
Facebook: @HistoricEnvScotland | @VisitHistoricScotland
For further information, please contact:
Ali George
Historic Environment Scotland Media Office
Direct Line: 0131 668 8714
Mobile: 07583 018 790 
ali.george@hes.scot