Historic Environment Scotland (HES) has invested £30,000 in the conservation of
Midhowe Chambered Cairn
on the isle of Rousay.
The Cairn – one of the largest chambered cairns in Scotland – is placed just twenty meters from the shoreline and is sheltered from the elements by a stone and steel structure erected in the 1930s, following the initial excavation of the site. Giving an insight into conservation efforts at the time, the shelter makes use of traditional stonework and is naturally ventilated and lit rather than being completely enclosed. Above the Cairn, a 33 meter long walkway allows visitors a unique view of the partitioned burial chambers, where the remains of 25 individuals were found.
Now, work will be undertaken to restore the steel elements of the structure and tackle climate-related corrosion, so the Cairn can continue to be enjoyed by all. HES Head of Conservation North, Lucy Vaughn said:
Chambered cairns are not uncommon in the north of Scotland, but this is one of the best preserved examples thanks to careful conservation.
"That conservation can be a slow process, and in this case, it is lengthened due to the constraints at the site.
"We understand that there will be some disappointment for visitors to the island hoping to see Midhowe, but these works will ensure that that the site remains in an excellent state, providing a distinctive view of a Neolithic burial site for years to come."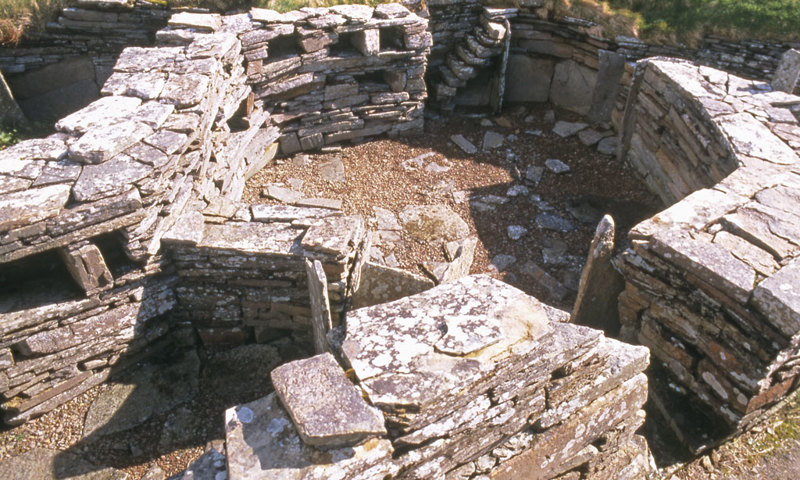 The work will see extensive scaffolding erected to allow HES staff and contractors access to the roof, and to protect the Cairn while work is going on. The corrosion will then be treated, and the steel trusses repainted. The treatment for the corrosion will require an extended period of time to cure, and require comparatively warm and dry conditions. A final inspection will be carried out before the scaffolding is removed. As the site relies on natural lighting, work has begun in August to allow staff to maximise daylight to avoid poor weather conditions that might delay work and transport of materials.
The site is expected to reopen in December 2017. Access to the nearby
Midhowe Broch
will be unaffected by the works.
About Historic Environment Scotland (HES)
Year of History, Heritage and Archaeology 2017
2017 is the Year of History, Heritage and Archaeology (HHA), a year that will celebrate Scotland's people, our distinct culture and traditions, our historic landscapes, attractions and icons as well as our hidden gems and amazing stories. From World Heritage Sites to ancient monuments, listed buildings to historic battlefields, cultural traditions to our myths, stories and legends, 2017 is the year to explore Scotland's fascinating past. This is a Scottish Government initiative being led by VisitScotland and a variety of partners.
Get involved on Twitter with #HHA2017

Follow Historic Environment Scotland
Twitter: @HistEnvScot | @welovehistory 
Facebook: @HistoricEnvScotland | @VisitHistoricScotland
For further information
Seumas Skinner
Historic Environment Scotland Media Office
Direct Line: 0131 668 8714
Mobile: 07776 243 809
seumas.skinner@hes.scot