1

Overview

Our cultural and natural heritage research seeks to investigate and understand Scotland's 345 properties in care. 

We use the knowledge gained to better understand the cultural and natural significance of the monuments individually and collectively. This informs decisions about their conservation and management, and informs the development of content for interpretation and learning programmes. The knowledge is also available in archives and used by third parties. 

We continually add to our understanding of the properties in our care. It's a process often led by experts, with interpretation playing a key part in testing theories. Communities and other audiences contribute to our cultural understanding of places through stories, art and folklore. 

We also undertake more than 60 biodiversity surveys each year. These inform site management and feed into local and national databases.  
2

Teams
Visitor Experience, Content and Learning Team
The Visitor Experience, Content and Learning Team is responsible for most of the cultural and natural research that relates to Scotland's properties in care.  
Its functions develop understanding and use that knowledge to advise, inform, interpret and engage. By continually testing and enriching our research, we're able to increase our understanding of the properties. Within Visitor Experience, Content and Learning are the following teams.

Cultural and Natural Resources Team



Area of focus: Enhancing the understanding of the cultural and natural significance of the monuments and their stories. 
The multidisciplinary Cultural and Natural Resources Team includes historians, archaeologists and natural history experts, and is responsible for undertaking and commissioning research into properties in care.
The team's work includes: 
curating

and ma

i

ntain

ing

the

Statements of Significance

,

which inform our work at

p

roperties

in care

 

serving

as archaeological

,

historical

and biodiversity

experts, providing advice to guide the conservation

, interpretation

and managemen

t

of the properties

 

creating

the in-house

Archaeology Report Monograph series

 

undertaking biodiversity surveys and

r

anger-led walks and talks

 

 

answering research questions in relation to our properties, their connections and contexts

 
Interpretation Team 



Area of focus: Delivering content-led, audience-focused interpretation at and about properties in care. 
Our Interpretation Team's work enhances visitors' experiences and facilitates access and engagement through a wide range of media. The team draws on our research to develop content for panels, audio tours, guidebooks, guided tours, exhibitions, quizzes and more at our properties in care.  
The research also informs online information, our members' magazine and our programme of events.   
Learning Team



Area of focus: Providing content-led programmes to help diverse audiences to value, share and celebrate Scotland's historic environment. 
The Learning Team draws on our rich research to deliver innovative and inclusive learning programmes across Scotland. These support national outcomes and education policy, inspire creativity and enhance health and well-being through outdoor learning.  
3

Partnerships and funding

Most of our cultural and natural heritage research is funded by Historic Environment Scotland's core budget. This includes significant research programmes designed to update Statements of Significance and to inform interpretation projects. Almost all involve working with third party experts and academics. 

We also occasionally fund targeted academic research through partnerships with academic organisations and other third party researchers. 
Call for Proposals to the Scottish Cultural Heritage Consortium
The Scottish Cultural Heritage Consortium (SCHC) brings together three of Scotland's national collections and national heritage agency, all of whom are internationally respected for their work in researching, documenting and promoting understanding of material culture.
The Consortium comprises Historic Environment Scotland, National Museums Scotland, the National Galleries of Scotland, and the National Library of Scotland. The Consortium is funded by the Arts and Humanities Research Council (AHRC).
The aims of the Consortium are:
Deliver world-class research and high-quality studentships that promote collaboration between the academic community and our work and collections
Encourage inter- and cross-disciplinary doctoral research on material culture that contributes to the strategic objectives of the institutions and has public impact
Build a supportive training and professional development environment that shares skills across our institutions and promotes integrated access to our collections
Maximise the impact and value of the research generated by working collaboratively to provide routes for sharing both between institutions and with a wider public
Add economic value by providing training and opportunities that enhance the employability of the studentsCollaborative Doctoral Partnerships (CDPs) are allocations of AHRC funded collaborative PhD studentships made to a museum, library, archive or heritage organization, or group of such organisations to allocate to collaborative projects that support their work and objectives.
Each year the SCHC awards six funded studentships which enable a Higher Education Institute (HEI) and a Consortium member organisation to collaborate on a PhD project.
Proposals for studentships are submitted to the CDP holder, each of whom hold their own selection process to choose the proposals they will support. Studentships are then advertised to recruit a student, although in some case a named student can be proposed as part of the overall proposal.
Interested HEIs should now seek to develop proposals for studentships in collaboration with the individual member organisations of the Scottish Cultural Heritage Consortium. The individual member organisations will be responsible for shortlisting proposals for submission to the Consortium selection panel by 25 November 2016.
The internal deadline for proposals to be shortlisted by each member organisation will be earlier than the final deadline, typically by 4-6 weeks. Please contact the relevant member organisations to discuss their internal call for proposals and details of their own timetable: 
Historic Environment Scotland: Rebecca Bailey - rebecca.bailey@rcahms.gov.uk and Alick Leslie -alick.leslie@hes.scot
National Museums Scotland: Stuart Allan - s.allan@nms.ac.uk
National Galleries of Scotland: Patricia Allerston - pallerston@nationalgalleries.org
National Library of Scotland: Robin Smith - R.Smith@nls.uk
Historic Environment Scotland – call for proposals
All CDPs have a deadline for submission to their selection panels of 25th November 2016. Selection panels are being held in January 2017, and this will allow us to advertise for students in February/March 2017 for a September/October start.
We need to run our internal shortlisting process in advance in order to choose the proposals that Historic Environment Scotland will put forward to the SCHC Selection Panel. Revised proposals must be re-submitted by the 5th November after initial feedback to both HEI and Historic Environment Scotland co-supervisors.
Please see the timetable below and download the application form [DOC, 25KB].
Timetable
August 2016 - invitation to submit circulated
Wednesday 19 October - submission to Rebecca Bailey (rebecca.bailey@rcahms.gov.uk) & Alick Leslie (alick.leslie@hes.scot) of first draft HES applications.
26 October - feedback on first drafts for revision
4 November - submission to HES Shortlisting Panel of second drafts
Mid-November - HES Shortlisting Panel meets
17 November - notification of proposals to be put forward, with feedback for revision
25 November - submission of final revised drafts, sent out to SCHC Selection Panel
Early January 2017 - SCHC Selection Panel
Mid-January - awards announced  
Please send applications to Rebecca Bailey (rebecca.bailey@rcahms.gov.uk) and Alick Leslie (alick.leslie@hes.scot).
4

Projects

Our work is always ongoing, whether it's research to inform a PhD or to answer a question from one of our Junior Tour Guides.  
Understanding Scotland's best-known monument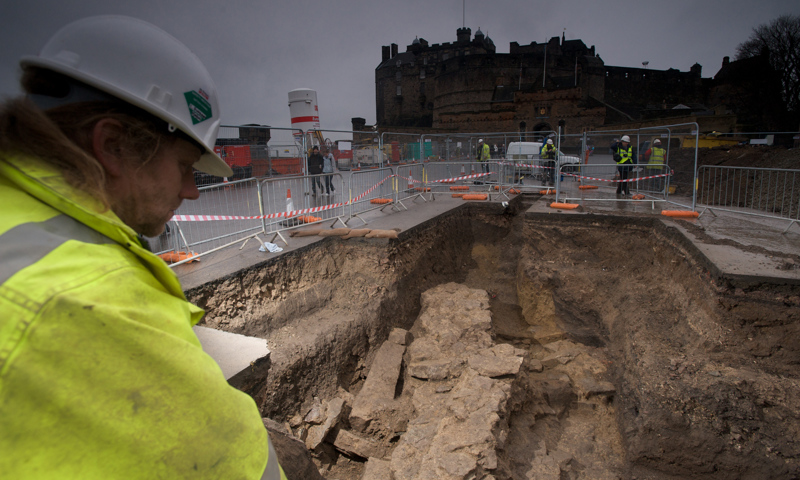 Edinburgh Castle is our best-known monument, but it's also among the least understood. 
Until recently, the castle and its site had been subject to little historical research and only limited archaeological investigation. 
We've been correcting that with a multi-strand programme of archaeological and historical research designed to enhance understanding of many aspects of the castle. These include, but aren't limited to:  
prehistoric and dark age activity on Castle Rock

 

the

medieval castle

's

story

 

the 19

th

-century approach to presenting the castle to

visitors

 
The programme is ongoing but some remarkable results are already reaching our visitors through updated guided tours. We're working on updating learning and interpretation activities at the castle, and will be publishing the results of our research online. 
Fortress of the Kingdom, a recent archaeological synthesis on Edinburgh Castle, is available from our online shop.
Elgin Cathedral carved stones redisplay project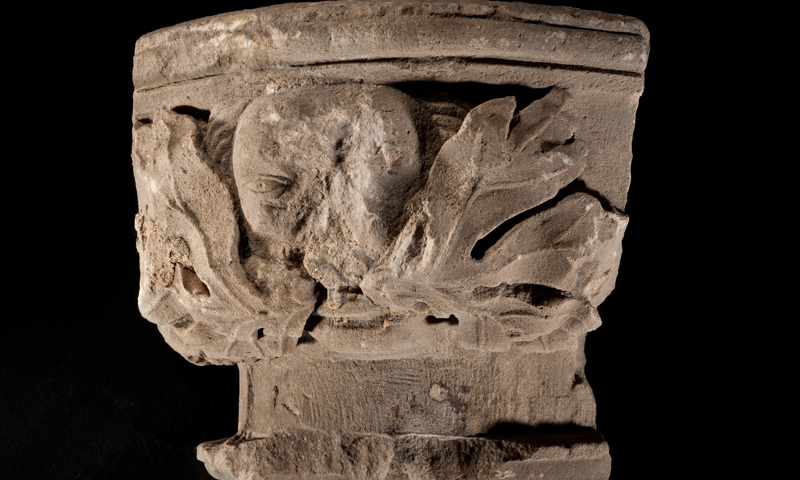 Elgin Cathedral, built in the early 1200s, is home to the most important collection of medieval carved stone fragments in Scotland. We wanted to re-interpret and redisplay the stones to show people that they were once brightly painted. To achieve this, we worked with Edinburgh Napier University to deliver an innovative means of presentation using a non-intrusive lighting solution. 
The exhibition, also supported by Moray Council, has involved new research into understanding the cathedral's carved stone collection. This has fed into the interpretive displays that tell the story of the church, the bishops who commissioned it and the masons employed to build it.  
Interpretive displays explore the language of medieval sculpture and decode the messages of the cathedral's carvings for our audiences.  
Find out more about the project.
Research techniques
Our research techniques are many and varied. These range from the use of remote sensing techniques such as geophysical survey to identify below-ground features to routine, reactive, pre-planned research and rescue excavations.  
Historical research is focused on primary rather than secondary sources whenever possible. In recent years we have developed a model of expert workshops and public seminars to develop and communicate research outcomes.  
Bringing a range of experts together to discuss and debate often questions our existing knowledge and focuses our research. In turn, this often enhances the research outcomes and our understanding.  
5

Publications and conferences

Our research is shared via many avenues, including: 
on

-

site interpretation including exhibitions, audio tours and events 

 

learning programmes and projects

 

 

r

anger talks and walks

 

publications

 

national and international conferences 

 

archives



Our research is also used in the:
Statements of Significance
Our Statements of Significance are documents outlining the history and development of Scotland's properties in care.
The statements highlight the key features that make the properties special. We're continually revising them, so they may vary in length, format and level of detail.
Many were compiled some time ago and some are very much a work in progress.
The Statements of Significance are often more technical than publications such as guidebooks. We hope that students, researchers and the public will make use of them. If you can't find a particular statement, please contact us by email at crtenquiries@hes.scot.
Read the Statements of Significance.
Contact
For further information please email crtenquiries@hes.scot.